Learn how to make this popsicle stick witch, a Halloween craft for kids, with this easy step-by-step tutorial.


Got craft sticks at home? Get them ready because we are going to be turning those plain sticks into an adorable bewitching witch.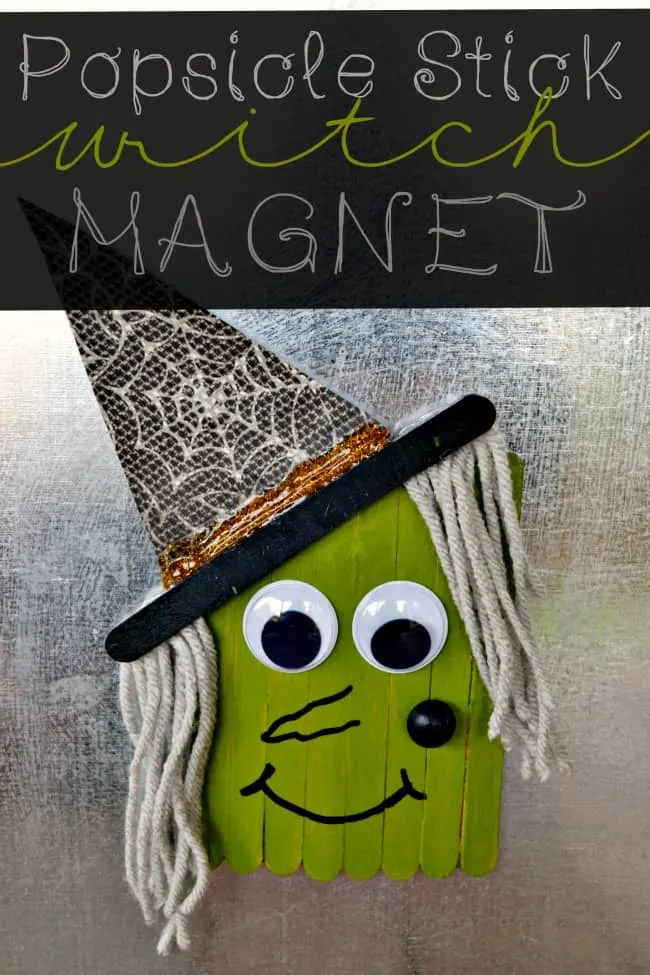 These Popsicle stick crafts for Halloween are the perfect projects to make during this spooky season, they are sure to cast the winning spell.


Craft sticks are one of our favorite supplies for creating. They're so easy to work with and super inexpensive too.


The Popsicle stick scarecrow magnet and pumpkin magnet have gone so viral that I knew Popsicle stick crafts were a hit with my readers as well.


So of course, we are back with another great craft for our Crafting with Kids series. This one is a wickedly cute popsicle stick witch of the non-scary variety.


Materials and Craft Supplies you will need!


Popsicle Sticks
Craft Paint (green and black)
Yarn
Cardstock / Cardboard
Halloween Scrap paper or Construction Paper
Googly Eyes
Elmer's Glue
Scissors
Hot Glue Gun / Glue (optional)
Glitter Glue (optional)





How to Make a Popsicle Stick Witch Halloween Craft!


1. Start off by using Elmer's glue to glue on your craft sticks, 8 of them, to your cardstock or cardboard. Make sure that you cut your backing so that it's no longer or wider than the popsicle sticks.


2. While your witch face is drying cut 10 8-inch strands of yarn.


We chose to use gray yarn but if you already have black on hand then I would go with what you got, no need to buy more for the small amount you need. Also, go ahead and paint 1 craft stick black as well as 1 furniture button black.


If you don't want to purchase the furniture buttons you could always just paint on your witch wort.


3. Now that your face is dry, paint it green and again allow it to dry.


4. The next step is to work on the witch's hat.


We decided we wanted to use something with a little more design to it than construction paper so we picked up a piece of Halloween scrap paper at the craft store.


You can just use plain black construction paper if you choose. It works just as well and looks just as cute.


Cut a triangle from your cardboard and another matching piece from your scrap paper or construction paper. Glue these together!


5. Fold your cut yarn in half and attach it to the back of your painted black craft stick.


You can use Elmer's glue for this but it is kind of a pain. It was much easier for me to just do this part and use hot glue.


6. Once your hair is dried attach the triangle hat piece and the craft stick/hairpiece onto your face.


We angled our hat but you can just put it on straight, however, you like it. We decided last minute that we wanted to angle the hat otherwise I probably would have cut the hair strands a little longer for one side.


If you want to angle the hat and want longer hair on the one side just be sure to cut 5 of the pieces of yarn to approximately 10 inches or so. If the hair is a little too long you can always trim it.


At this point, we also decided we wanted to add a little more to the hat and made a band of gold using gold glitter glue.


7. Now you are ready to attach the googly eyes, wort, and paint on the face.


8. Attach magnets to the back of your witch to turn her into a magnet.


We used two .75-inch adhesive magnets.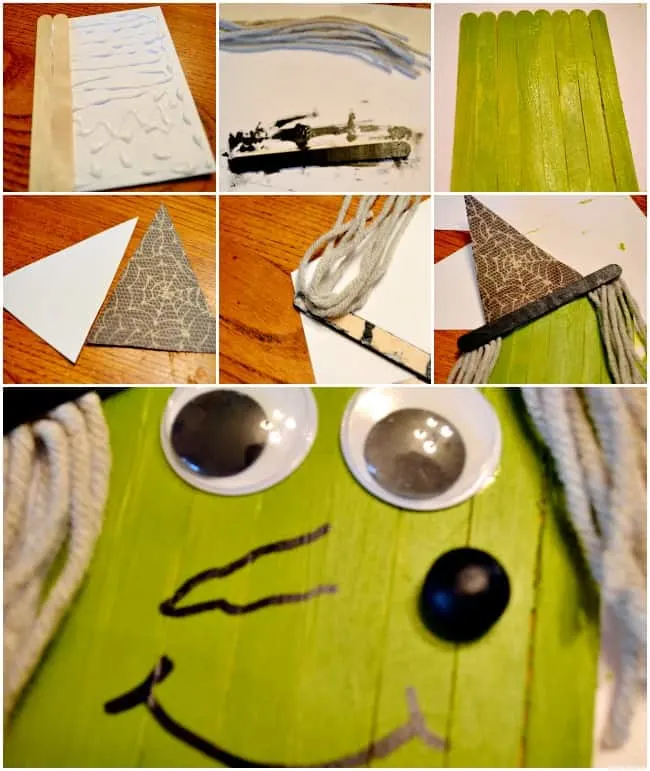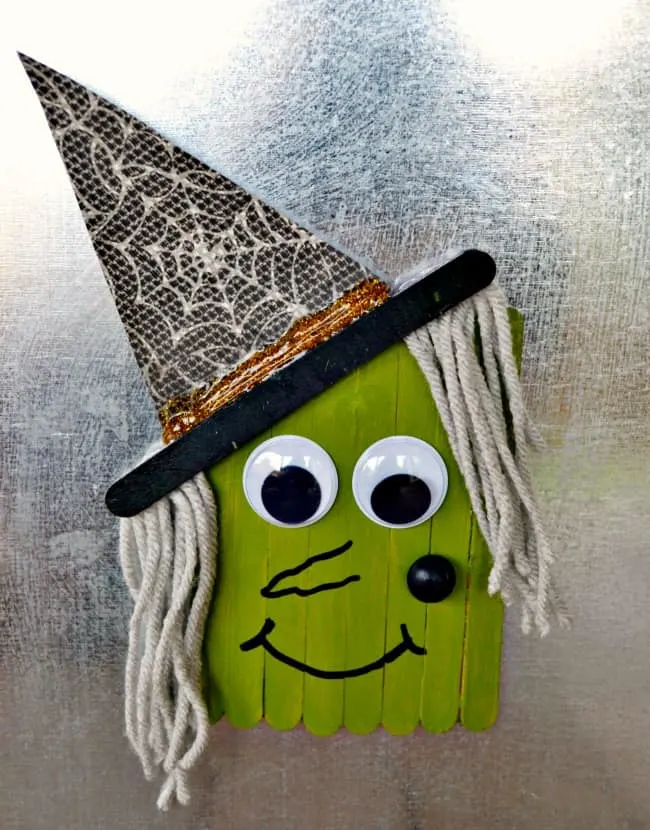 Want to print or save these popsicle stick witch instructions?