This smooth and creamy pumpkin mousse recipe puts a delicious and tasty twist on a traditional pumpkin pie.


It makes the perfect fall dessert for pumpkin lovers and to share with your family and friends, whether after Thanksgiving dinner or another special occasion.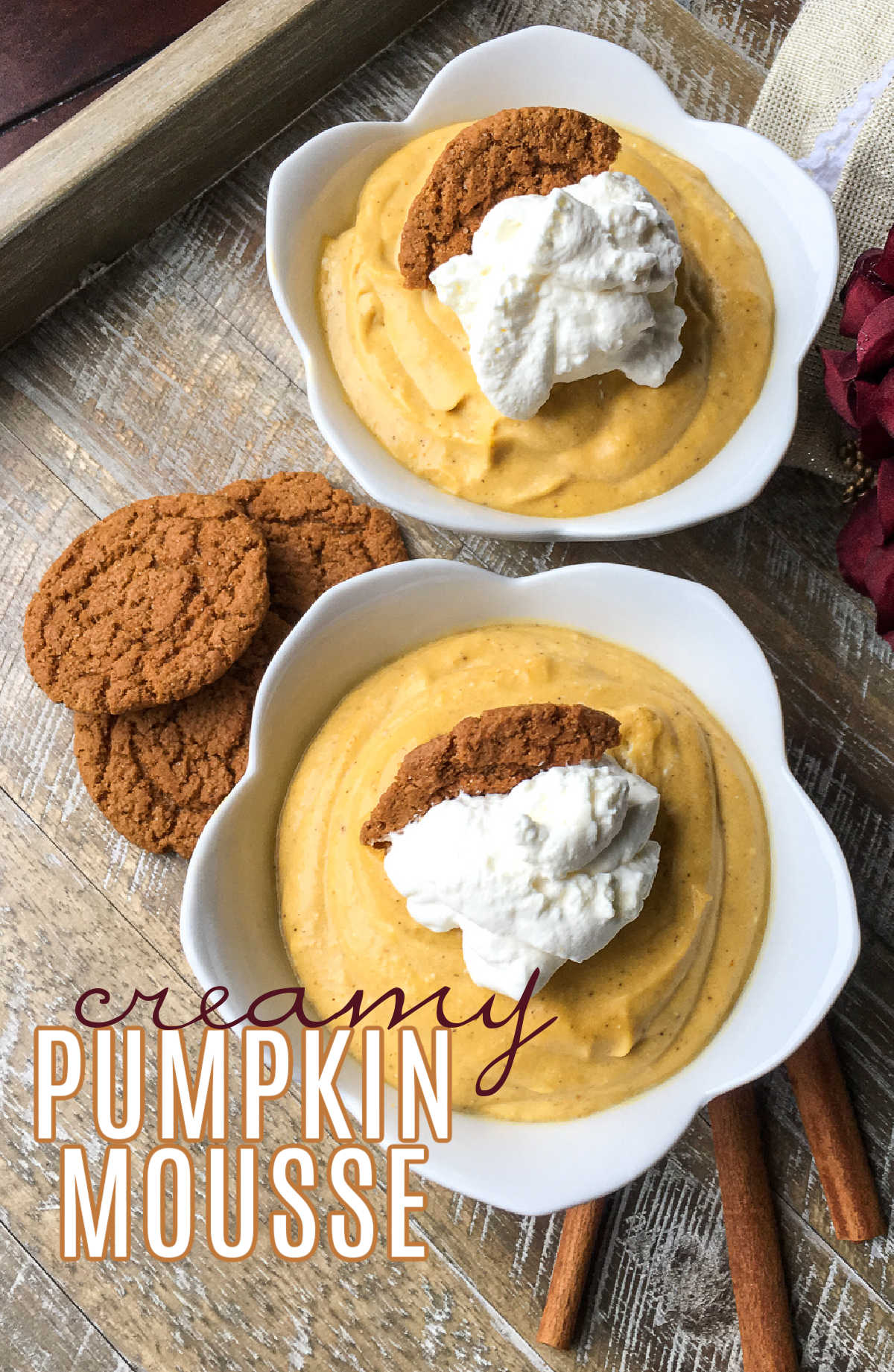 We love to have it during the holiday season because it's so light and airy that it won't add to the already stuffed feeling that a big meal can create.


Not only is it a super easy recipe to make, with just 7 simple ingredients and ready in 10 minutes, but it is also so pretty in a dish.


It would be great served up to a crowd or the whole family as a pumpkin mousse trifle.


Why you'll love this fluffy dessert!


It is so easy to make. There is no cooking or baking that needs to be done.

It's quick! You can have this whole dessert whipped up in 10 minutes and in the fridge to chill waiting for after dinner.

Best of all, it's so delicious, pumpkin mousse tastes just like fall.

This recipe is gluten and refined sugar, free.




Ingredients you will need for this delicious dessert!


1 pint of heavy cream
6 tablespoons real maple syrup, divided
1 15-oz. can pumpkin puree (not pumpkin pie filling)
8 oz. cream cheese, softened, cubed
2 tablespoons pumpkin pie spice
1 teaspoon real vanilla extract
1/3 cup half & half
Optional – pecan halves, ground cinnamon for dusting, and ginger snaps for serving




How to make easy pumpkin mousse!


Beat the heavy whipping cream in a large bowl with a hand mixer until it doubles in size.


Add 2 tablespoons of maple syrup and continue beating on medium speed until light and fluffy. Cover and place in the refrigerator until ready to use.


Beat the pumpkin purée, cream cheese, pumpkin spice, vanilla extract, half &half, and remaining maple syrup in a large mixing bowl with a hand mixer until thoroughly blended into a fluffy mousse.


Taste and adjust seasonings as desired, then transfer and divide mousse into individual ramekins or dessert bowls. Cover and place in the refrigerator to chill for at least 1 hour.


To serve, remove from refrigerator and top with maple whipped cream, pecans, and a sprinkle of ground cinnamon, if desired. Enjoy!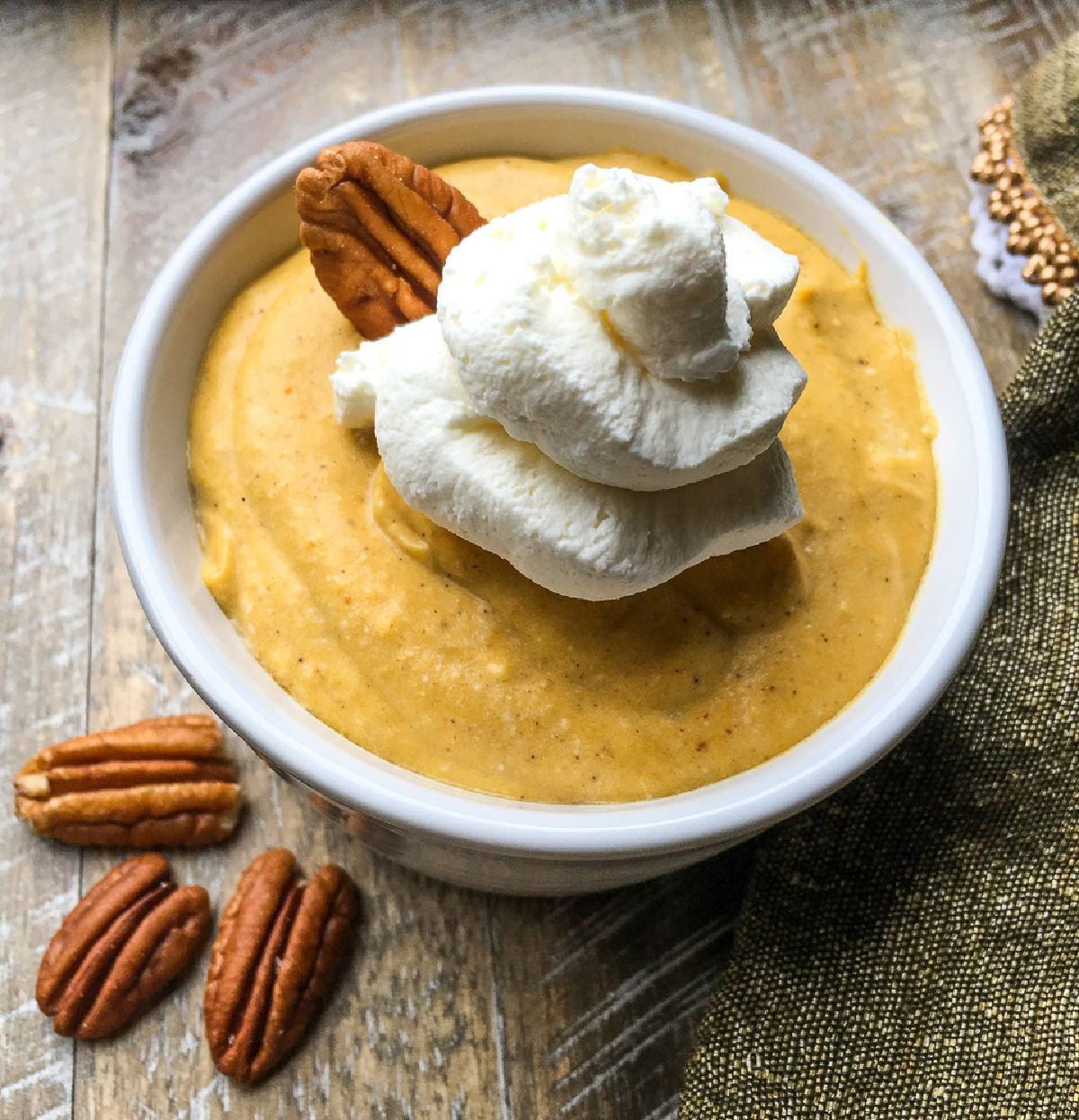 Tips and Tricks for making this Pumpkin Mousse Recipe!


You can make this recipe ahead of time so that your dessert will be chilled in enough time. Leave off the garnishes and favorite toppings until you are ready to serve.


You can substitute light cream cheese to make this a lighter version recipe. You could also leave out making your own whipped cream and just replace it with grocery store-bought light cool whip.


For best results when making whipped topping refrigerate your bowl and whisk 20 minutes prior to using.


What is mousse?
Mousse is a prepared soft food that incorporates air bubbles to give it a light and fluffy texture. A mousse is most often a sweet treat but can also be made savory as well, which is why I refer to it as a soft food rather than a soft dessert.
What is the difference between pudding and mousse?
One of the biggest differences is that pudding is often cooked (minus instant) while mousse is a no bake dessert. Another big difference is their texture. A mousse is a light and airy dessert compared to a pudding mix that is thick and dense.
How long will this mousse last?
This recipe will keep in the refrigerator for 4-5 days but is best served within the first day or 2.


Even more delicious pumpkin recipes and Thanksgiving desserts!


Are you a pumpkin lover?!

Shop these fun pumpkin related items that we are in love with!


Want to print or save this recipe?