Taco in a bag is perfect for grabbing dinner on the go, aka the Walking Taco is just a fun way to pull it all together that the whole family will love.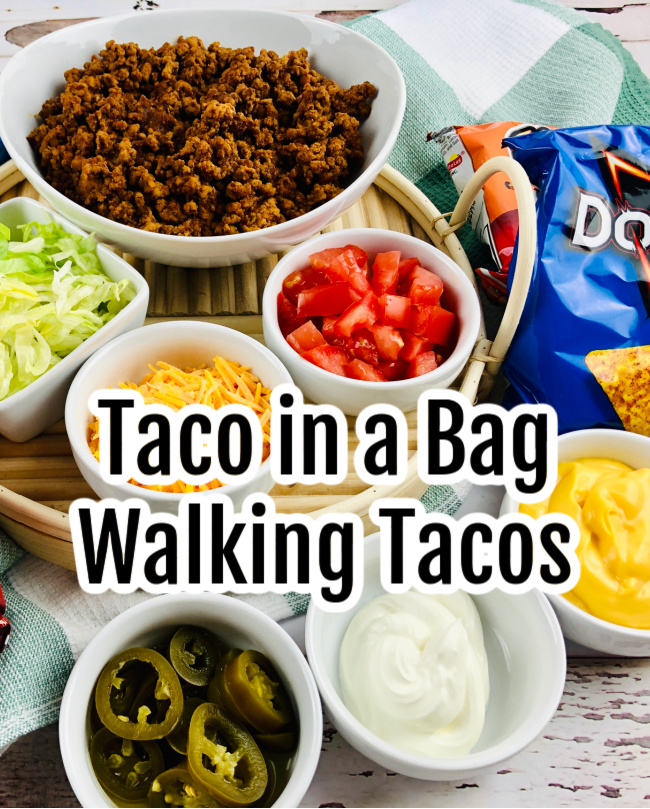 If you are planning a picnic for the family, need a quick game night supper, or even a block party for the whole neighborhood then definitely give these Walking Tacos a try.


They obviously make clean-up almost non-existent, as there is no plate needed. They are also inexpensive to put together and well, of course, the taste is delicious.


These simple ingredients will transform your ordinary bag of chips into something you don't want to miss and that the kids will ask for again and again.


Who doesn't like food with a fun factor?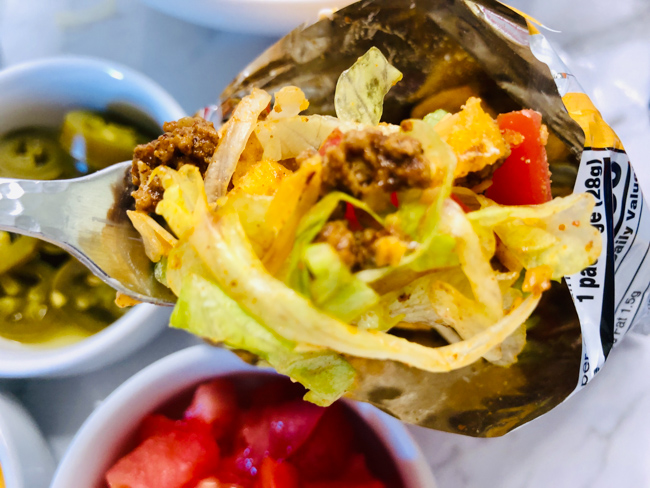 What are Walking Tacos?


Walking Tacos are just that, a taco that you can walk around with. All you have to do is open up an individual-sized bag of your favorite chips (be it Doritos, Fritos, or something else), layer on your favorite toppings, and enjoy.


There are so many different ways to enjoy tacos in a bag. Here are some of our favorite toppings:


Taco in a Bag Topping Ideas:
ground beef (or you can substitute with ground turkey, shredded chicken, etc)
cheese
lettuce
chopped tomatoes
olives
refried beans
salsa
guacamole
sour cream
hot sauce (or mild, if you are like me haha)


Taco in a Bag Ingredients


1 lb prepared taco meat
Lettuce, shredded
Tomatoes, diced
Nacho Cheese Sauce
Cheese, shredded
Sour Cream
1 oz chip bags, assorted flavors: Fritos, Cheetos, Doritos, etc.
Pickled Jalapenos, sliced (optional)
Any additional toppings you prefer




How to Make a Taco in a Bag


The first step in making your yummy walking taco is to determine what type of chips that you want to use. This is the 'shell' of your taco and will give you that crunch factor like a hard shell taco. We all really like Fritos and Doritos but you can choose whatever chips you love.

Once you have picked your chips of choice, lightly crush up the chips before you open them.


Speaking of opening the chips, a recommended tip is opening them lengthwise. A larger opening makes it easier to assemble the ingredients and eat the taco.


Add your desired taco meat. We prefer ground beef but shredded chicken is equally as yum and if you are looking for an even healthier option, go with ground turkey.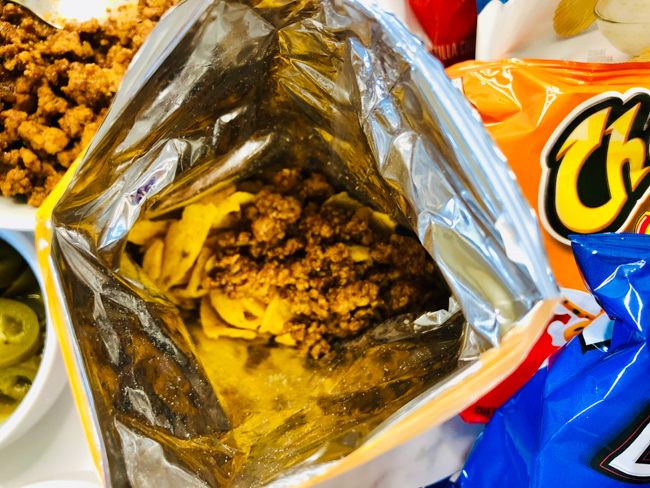 Now it is time to add in whatever toppings you love. You can go off our suggested ingredients, which are your typical taco toppings or choose the combination you love the best.


Once you have them all added, hold the bag closed and give it a good shake to combine. Now you are ready to enjoy right out of the bag.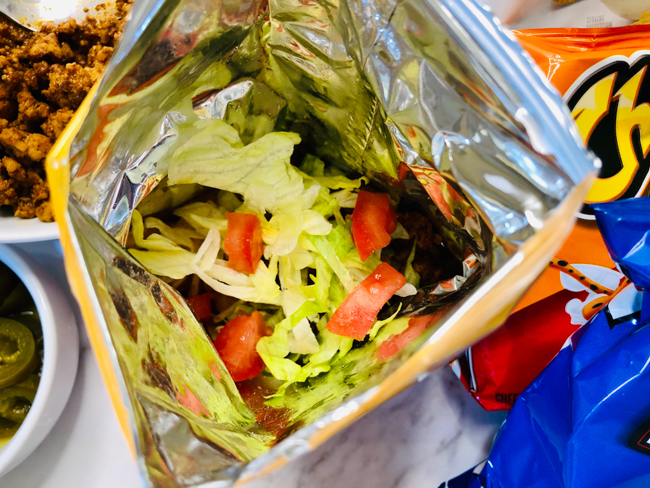 This Taco in a Bag makes a great get-together dinner that requires little work from the hostess.


If you want to make walking tacos for a big crowd, a great option is heating and serving your taco meat in a slow cooker, have a big bowl full of various individual chip bags that your guests can grab, and then filling smaller bowls with various toppings.


Your guests can grab a bag and fill their Tacos to their own personalities and tastes.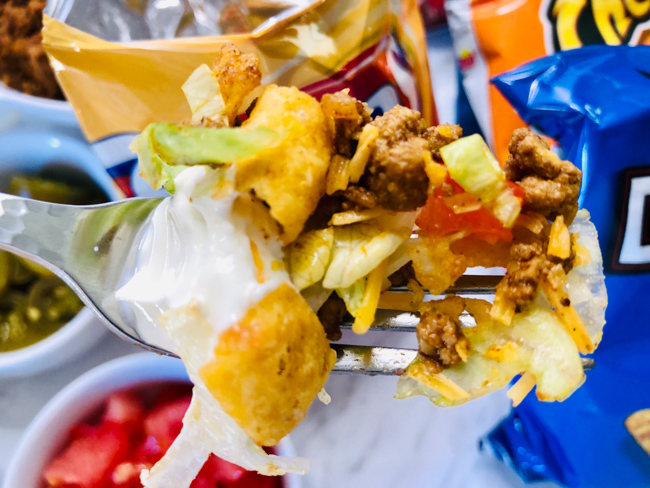 Even more taco ideas you don't want to miss!


Want to print or save the instructions for making these Taco in a Bag Walking Tacos?