Discover the ultimate recipe for the best lemon cookie bars.


Indulge in the perfect balance of sweetness and tanginess with every bite.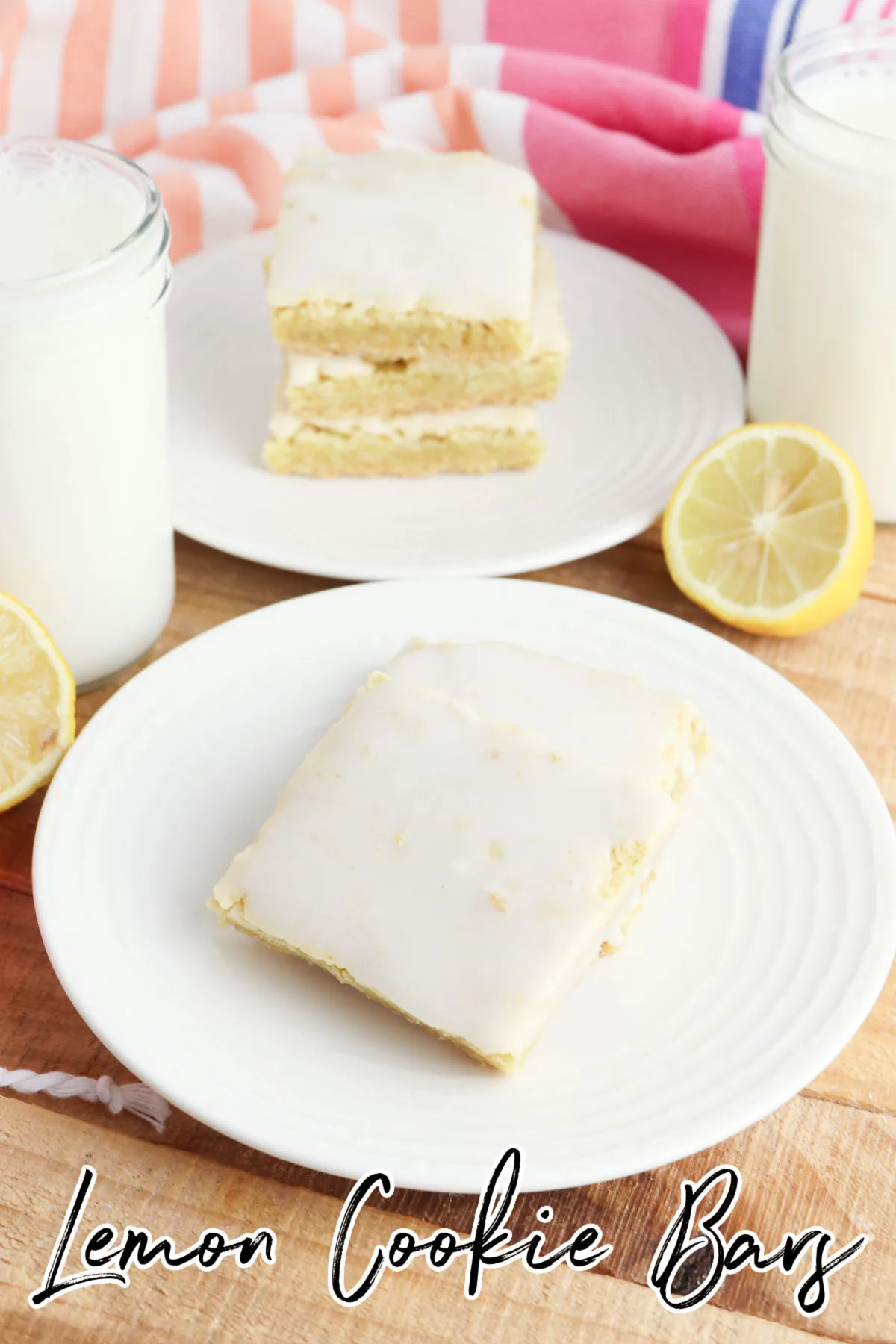 There's something undeniably refreshing about the zesty flavor of lemons.


Their vibrant taste and tangy aroma can brighten up any dish, and when it comes to desserts, lemon often takes center stage.


If you're a fan of citrusy treats, then lemon cookie bars are an absolute must-try.


These luscious bars combine the perfect balance of sweetness and tartness, making them an irresistible treat for any occasion.


Join me on a culinary journey to create these delightful lemony delights right in the comfort of your own kitchen.




Why you'll love this Recipe!


Tangy and Refreshing Flavor:


Lemon cookie bars offer a burst of tangy and refreshing flavor that is both invigorating and satisfying. The zesty citrus taste adds a delightful twist to traditional cookie bars.


Perfect Sweet-Tart Balance:


Lemon sugar cookie bars strike the perfect balance between sweetness and tartness. The combination of tangy lemon and sweet cookie base creates a harmonious and addictive flavor profile.


Easy to Make:


Lemon bar cookies are relatively simple to make, making them a great choice for both novice and experienced bakers. With a few basic ingredients and straightforward instructions, you can whip up a batch of these delicious treats in no time.


Crowd-Pleaser:


Lemon cookie bars have wide appeal and are loved by people of all ages. Whether you're serving them at a family gathering, a party, or simply enjoying them on your own, these bars are sure to impress and satisfy.


Great for All Occasions:


This recipe is super versatile and can be enjoyed on various occasions. They are a fantastic choice for picnics, potlucks, afternoon tea, dessert tables, or as a sweet treat any time of the day.


Endless Variations:


While classic lemon cookie bars are a delight on their own, you can get creative and experiment with different variations. Additions such as berries, nuts, or a hint of coconut can bring exciting new dimensions to the flavor and texture.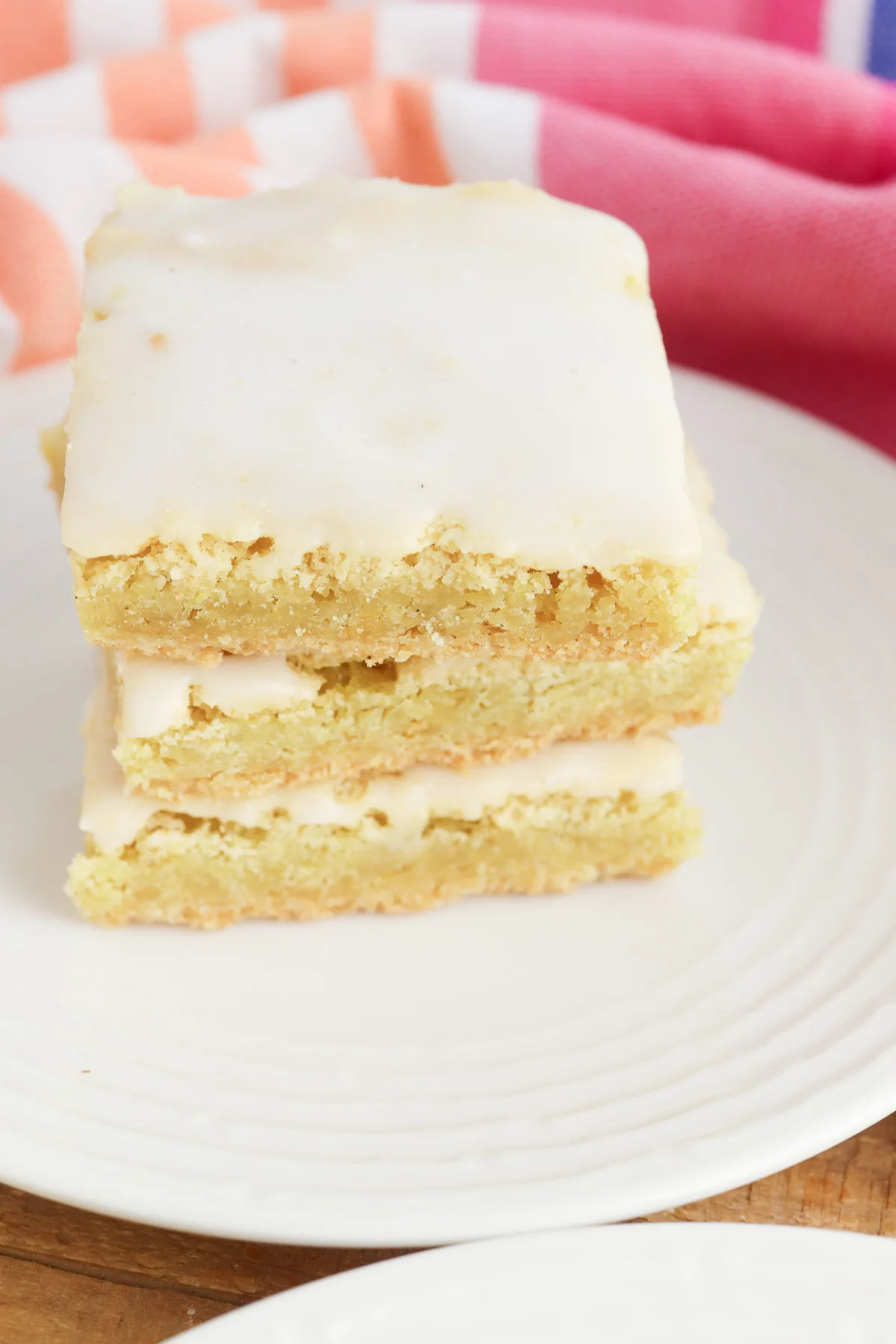 Ingredients for Lemon Sugar Cookie Bars


for the bars:


1 cup unsalted butter, softened
1 1/2 cups sugar
1 egg
3 tablespoons fresh lemon juice
1 teaspoon lemon extract
Zest of one lemon
3 cups all purpose flour
1 teaspoon baking soda
1 teaspoon baking powder
1/2 teaspoon salt


For the Glaze (optional):


1 cup powdered sugar
1 to 2 tablespoons lemon juice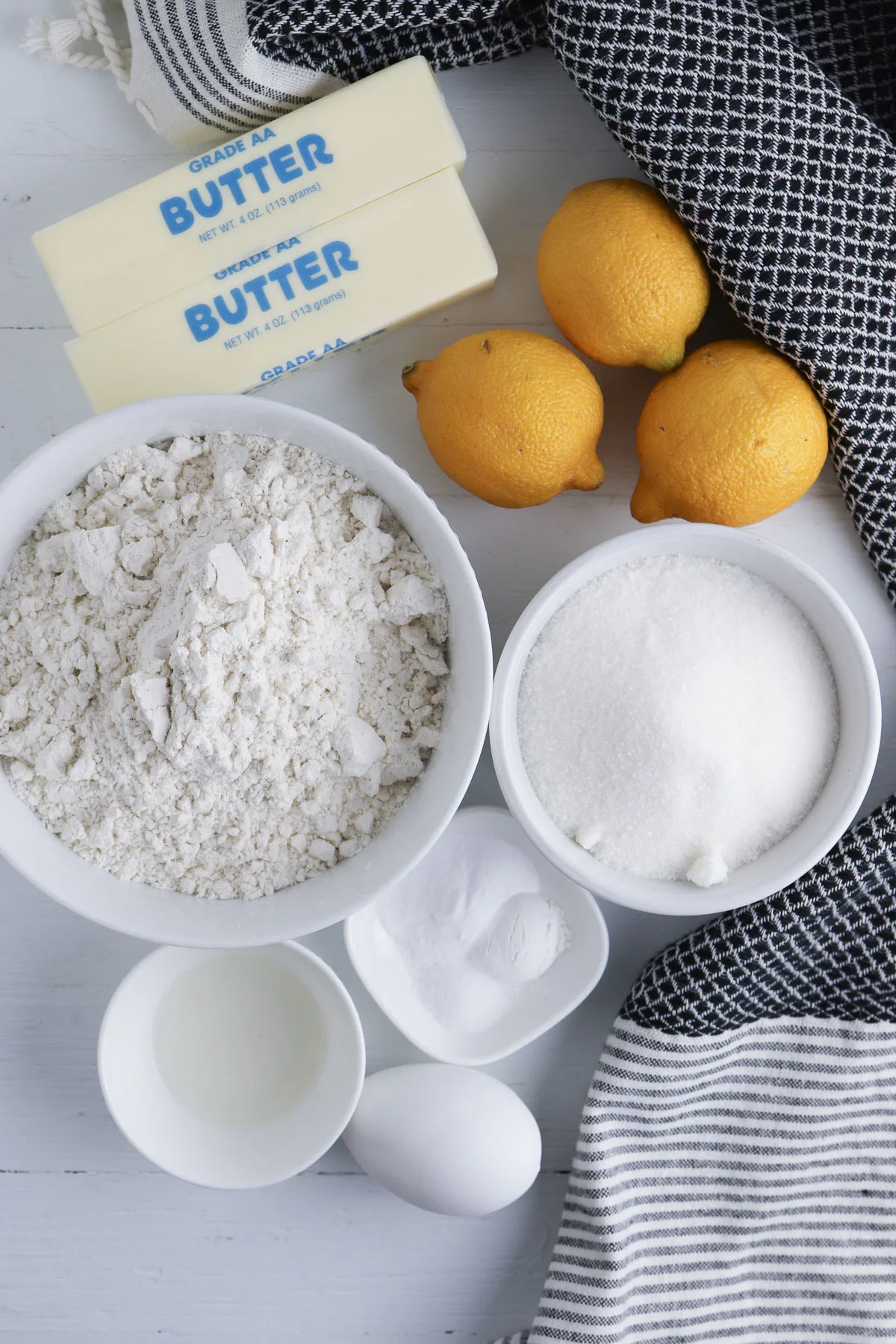 How to make Easy Lemon Cookie Bars!


Preheat the oven to 350 degrees and grease a 9×13 baking pan with nonstick cooking spray.


In a large bowl, using an electric mixer on medium speed beat together the butter and sugar until light and fluffy.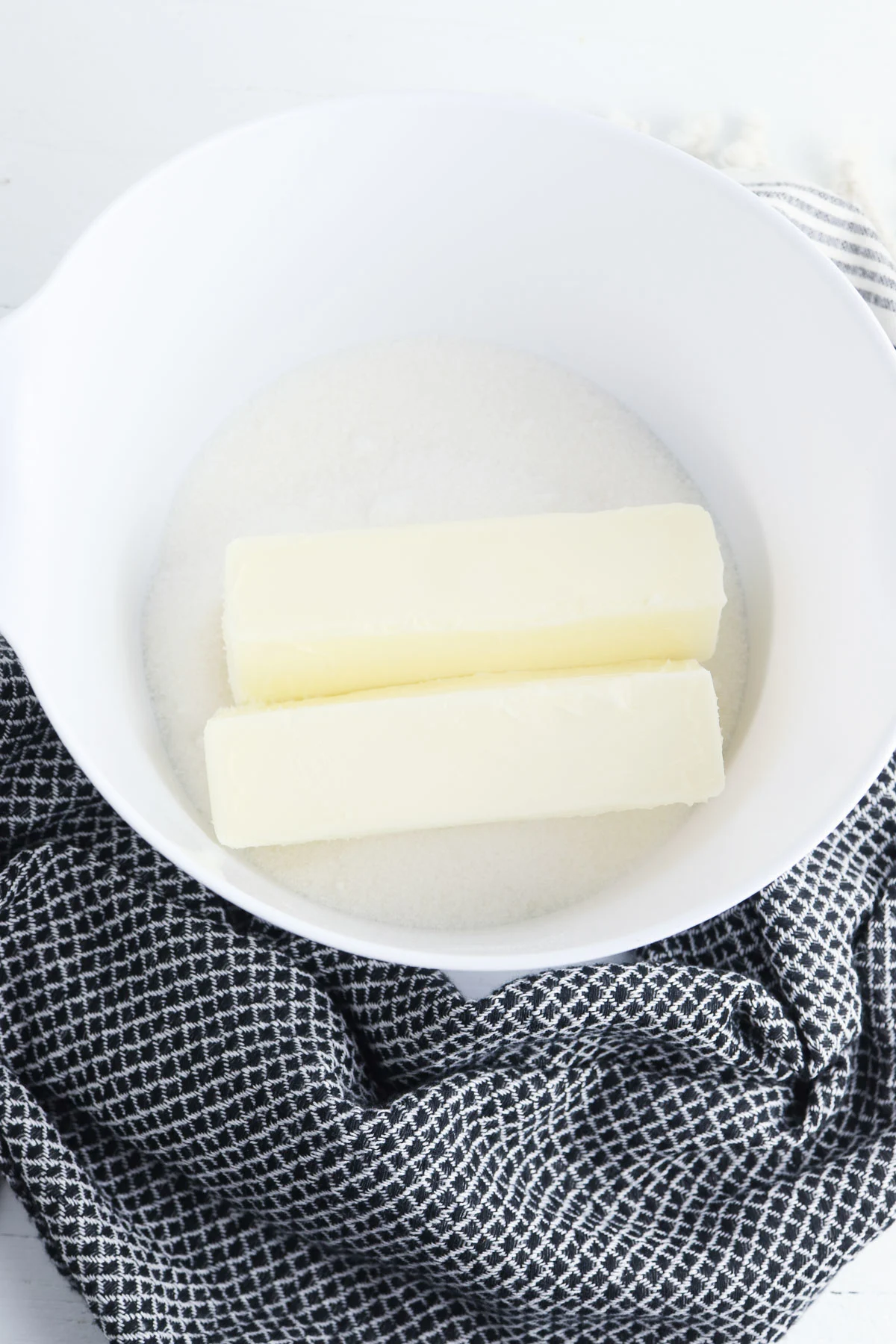 Add the egg, lemon juice, lemon extract, and lemon zest. Beat to combine.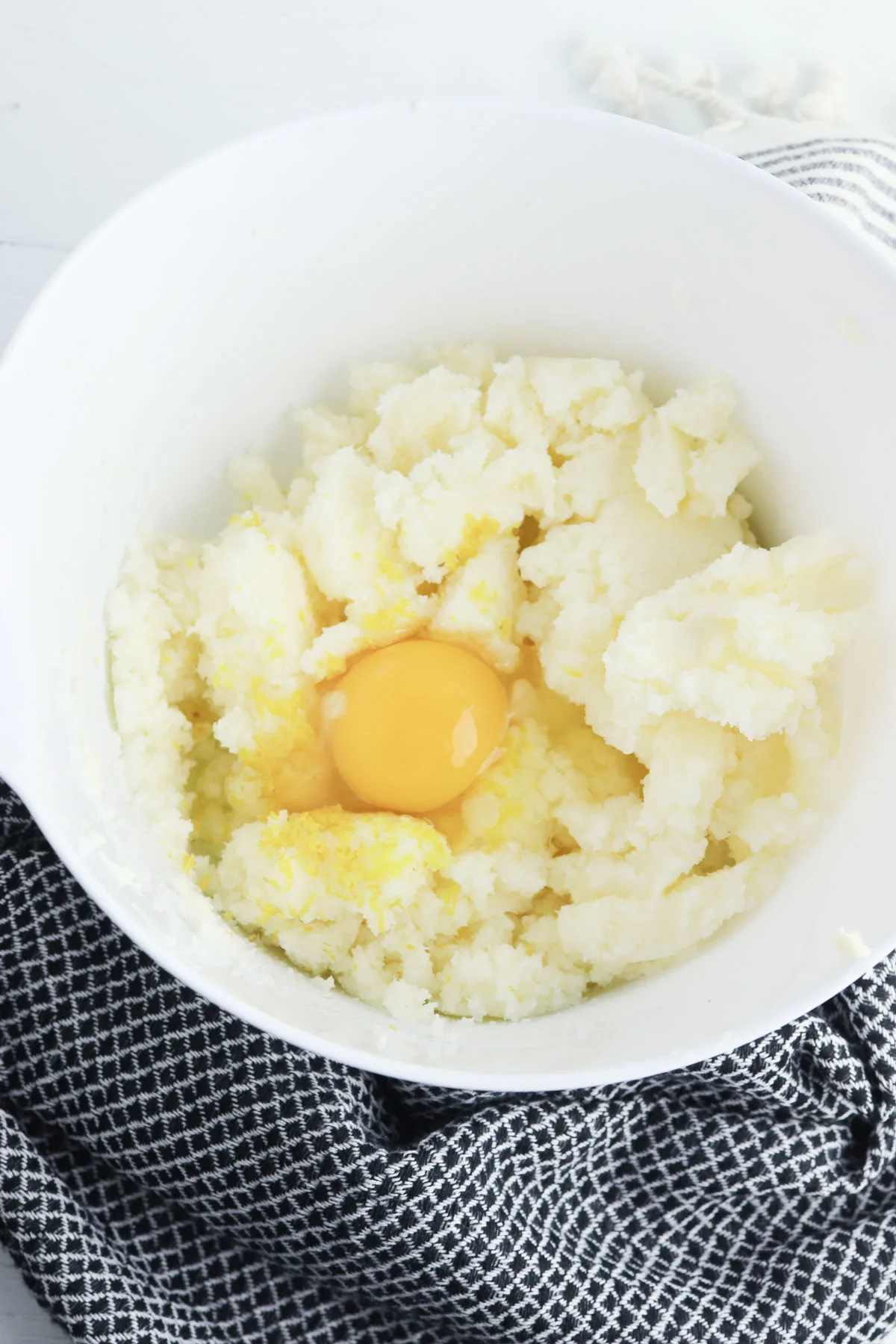 Add the dry ingredients: flour, baking soda, baking powder, and salt. Beat to mix.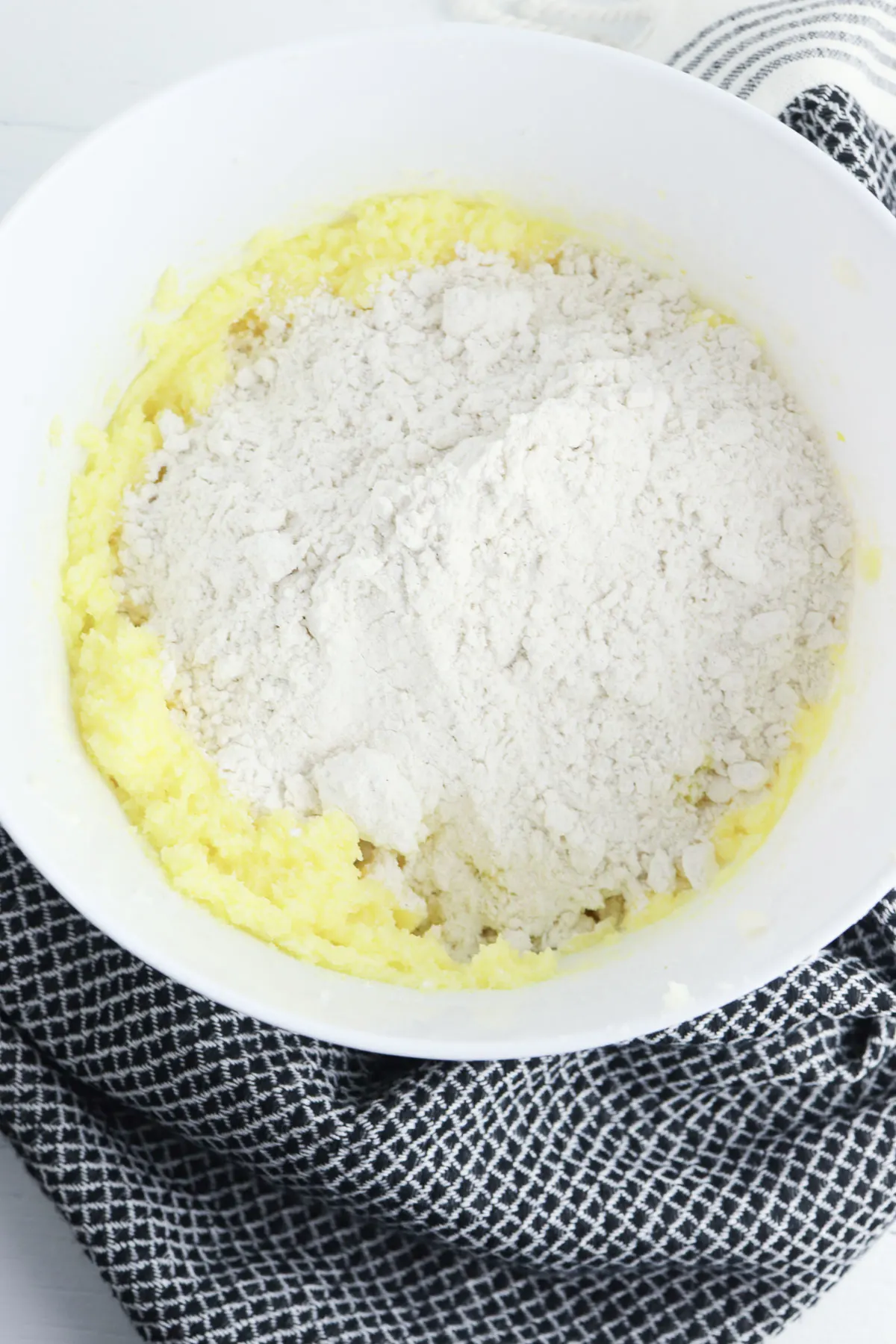 Press the cookie dough into the prepared pan and bake for 20 to 25 minutes.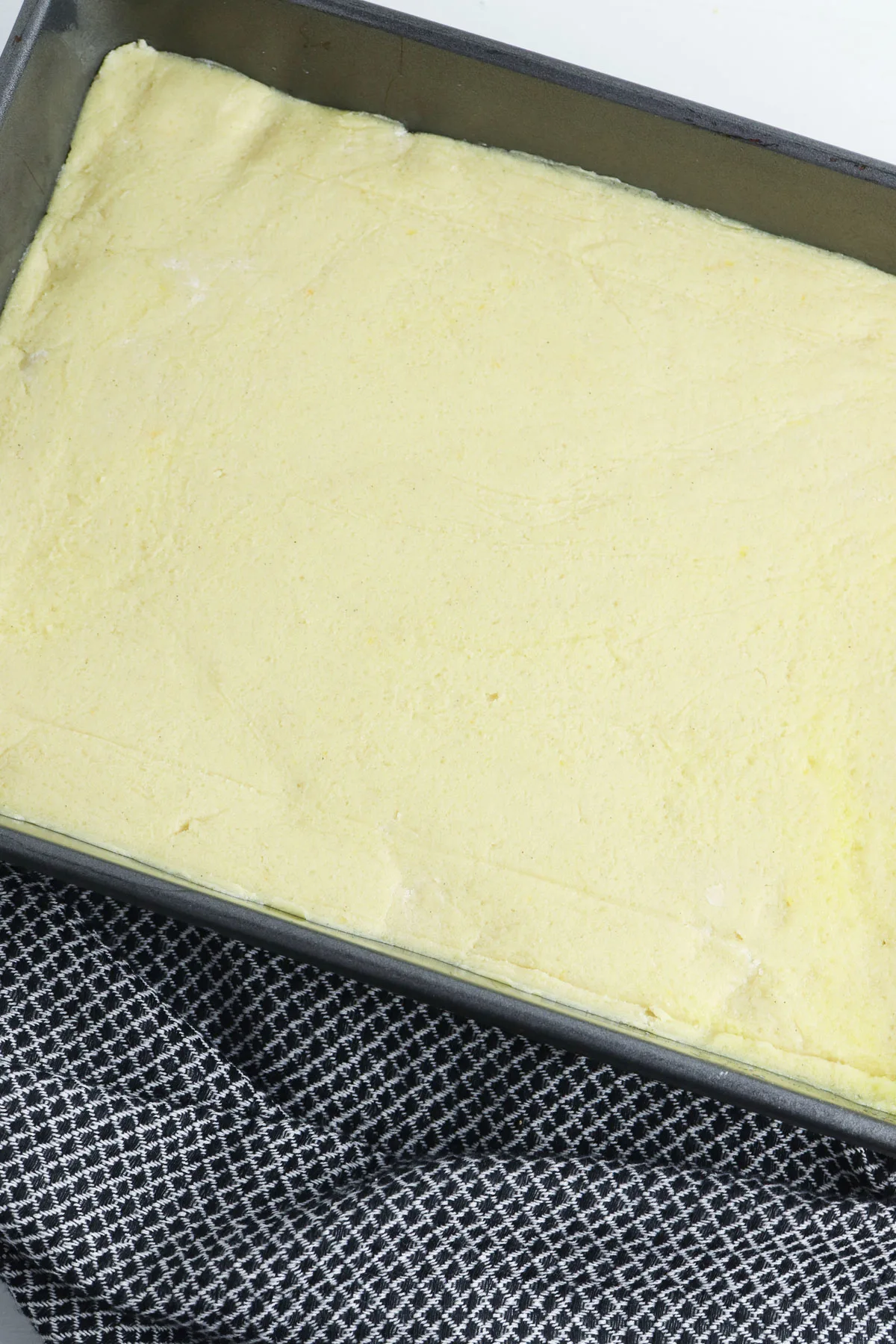 Allow the cookie bars to cool completely, then cut them into squares.


Whisk together the powdered sugar and lemon juice until smooth. Dip the cookie bars into the glaze.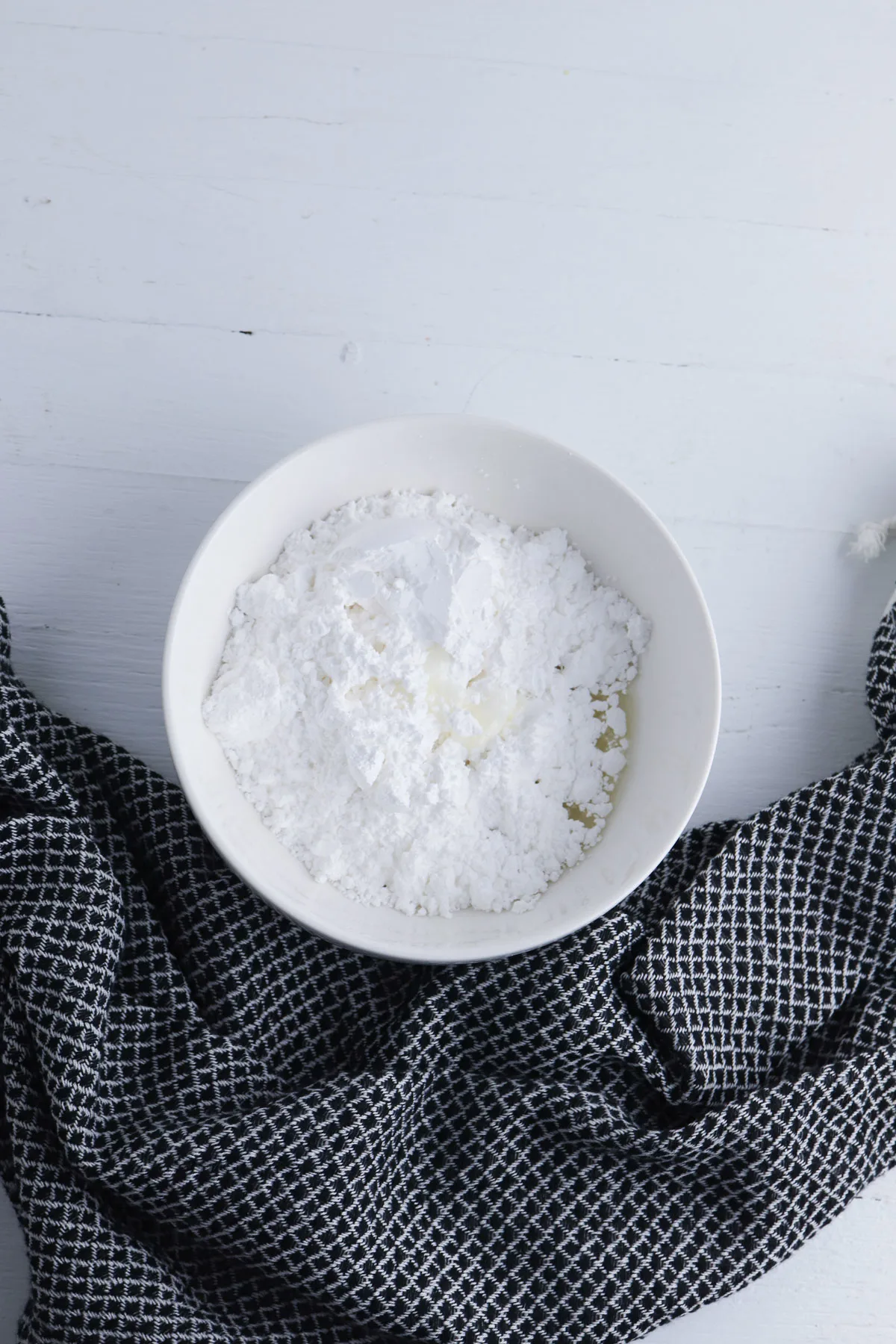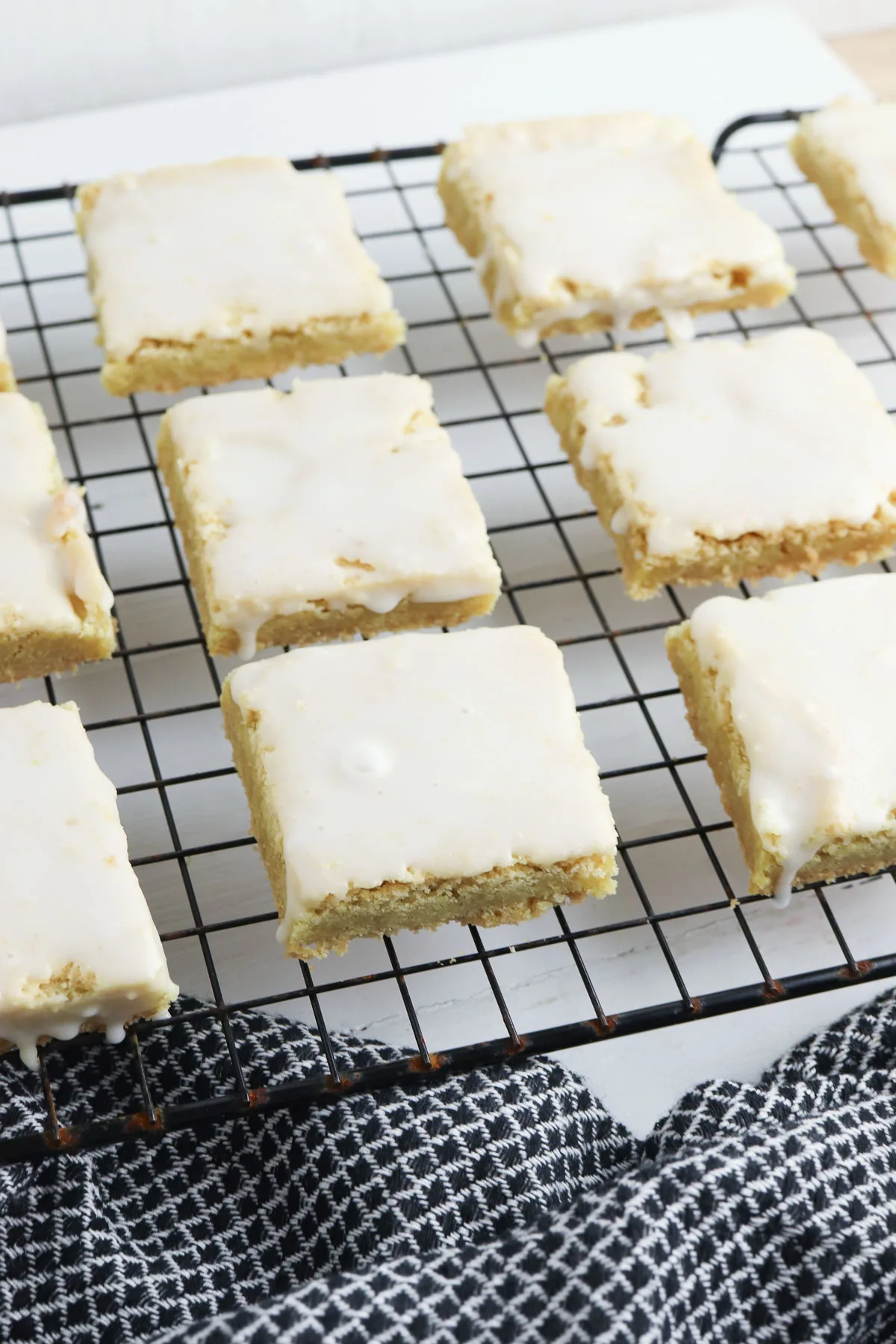 Allow the lemon glaze to set before serving.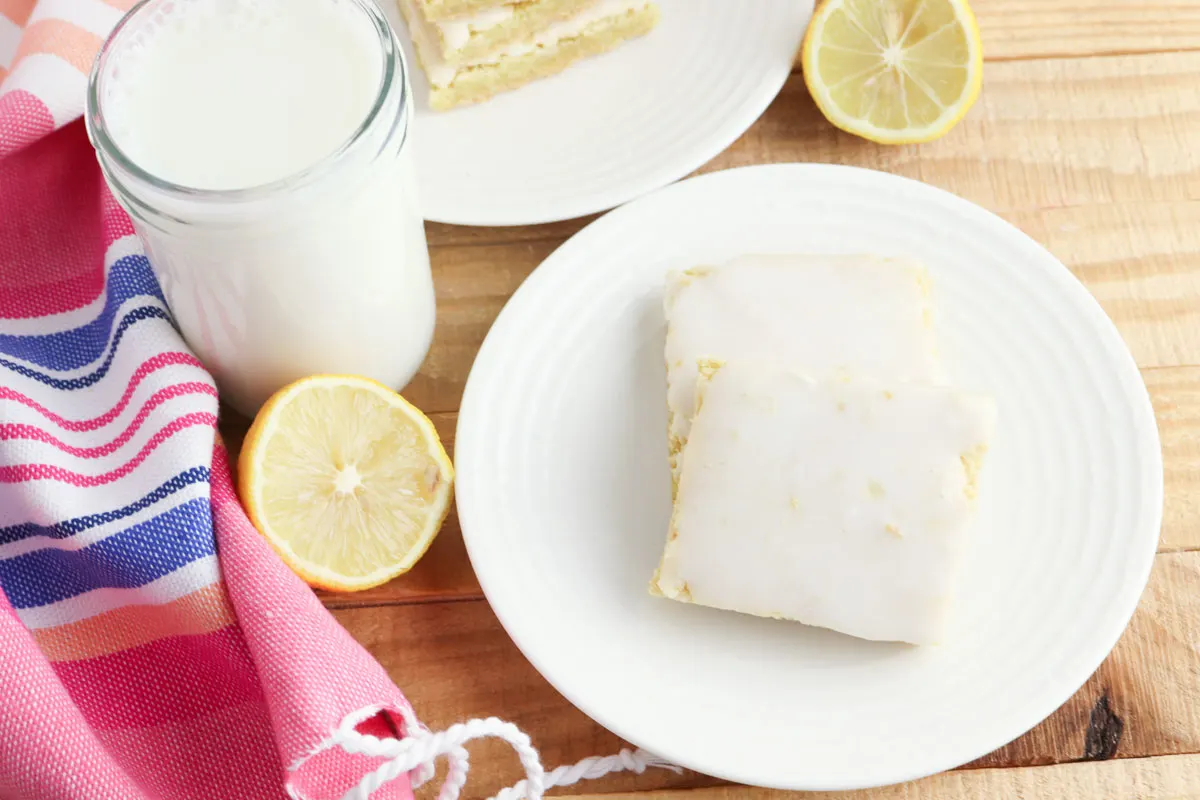 Can I use bottled lemon juice instead of freshly squeezed lemon juice?
While it's always best to use freshly squeezed lemon juice for optimal flavor, you can use bottled lemon juice in a pinch. Just make sure to check the label and choose a high-quality brand without any additives or preservatives.
Can I substitute the all-purpose flour with gluten-free flour?
Yes, you can substitute all-purpose flour with a gluten-free flour blend to make the recipe gluten-free. However, keep in mind that the texture and taste may vary slightly.
How long do lemon cookie bars stay fresh?
Lemon cookie bars can stay fresh for about 3-4 days when stored in an airtight container at room temperature. For extended freshness, you can refrigerate them for up to a week.
Can I freeze lemon cookie bars?
Yes, you can freeze lemon cookie bars for future enjoyment. Wrap them tightly in plastic wrap or place them in a freezer-safe container. They can be stored in the freezer for up to 2-3 months. Thaw them in the refrigerator before serving.
Can I add other ingredients, such as berries or nuts, to the lemon cookie bars?
Absolutely! Lemon pairs well with various flavors and textures. You can add fresh berries like blueberries or raspberries to the batter or sprinkle chopped nuts, such as almonds or walnuts, on top before baking for added crunch and flavor.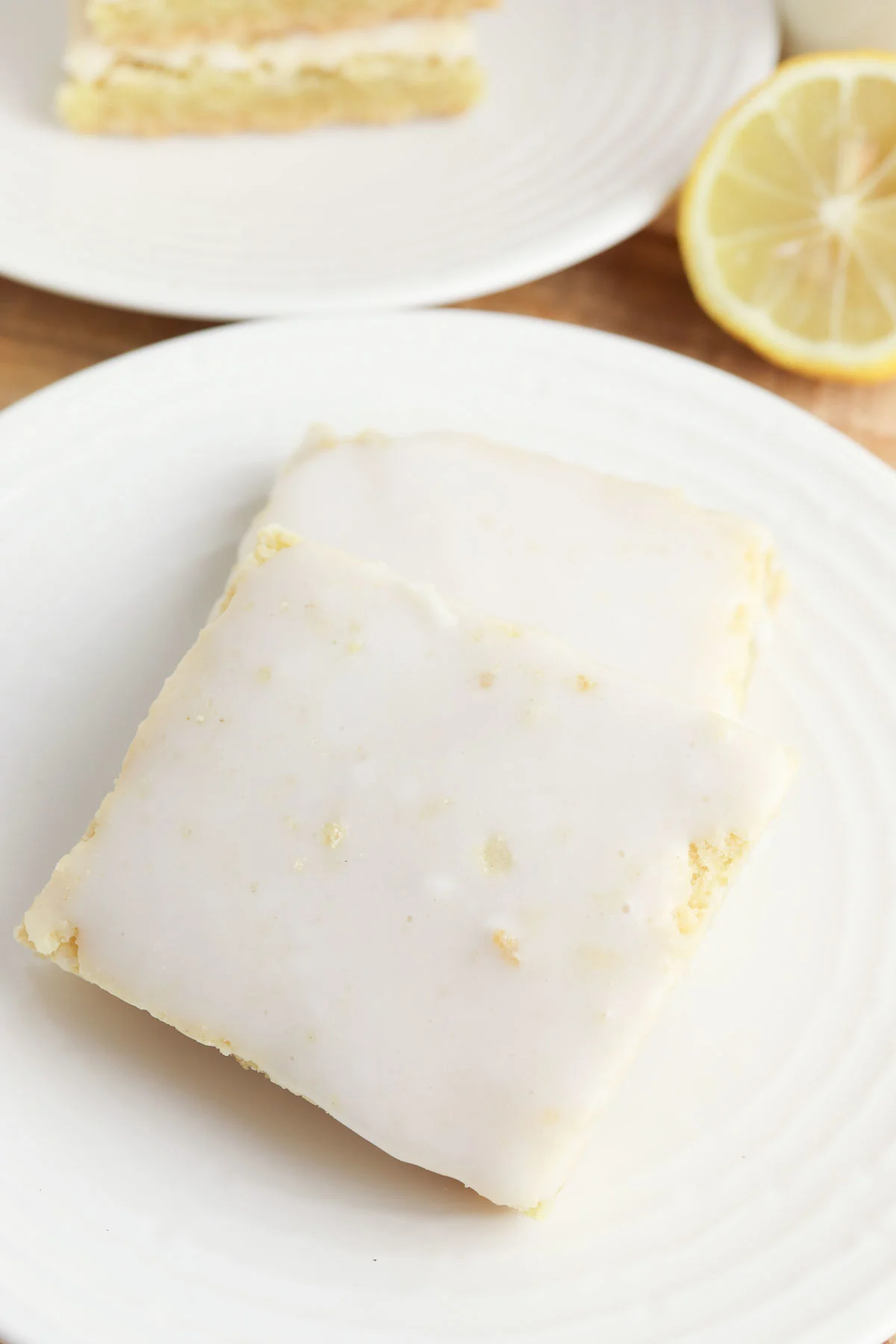 Even more delicious lemon-flavored recipes




Even more delicious cookie bar recipes




Want to print or save this recipe?