This Apple Cider Chicken Skillet with its sweet and savory flavor is an easy and delicious meal for a Fall dinner night.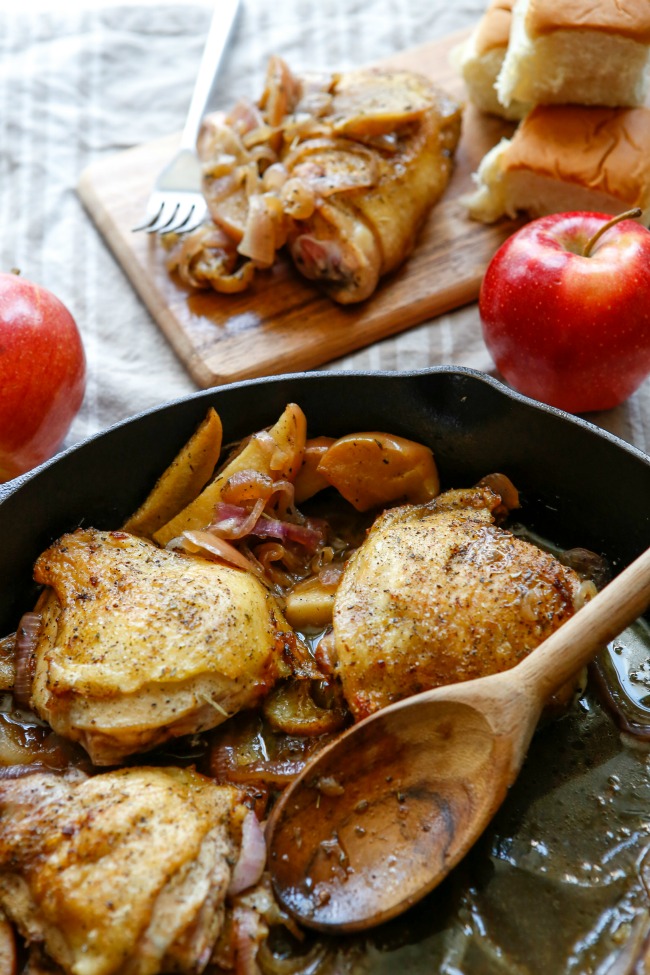 This Autumn meal takes just 30 minutes to make and is the perfect healthy dinner for the whole family to enjoy.


It may just be my new favorite fall meal. I mean you can't go wrong with caramelized apples and onions mixed in with juicy seared chicken.


Make this dish a family event and go apple picking to gather your favorites beforehand.


Apple Cider Chicken Skillet Ingredients:


4 bone-in, skin-on chicken thighs
3 tablespoons unsalted butter
2 medium gala or honey crisp apples, cut into ¼ inch slices
1 small red onion, cut in half and sliced thinly
1 ½ teaspoons herbs de Provence
⅓ cup chicken stock
½ cup Apple cider (apple juice or more chicken broth will work too)
¼ cup white wine, optional
Pinch of coarse salt
Cracked black ground pepper


How to cook Apple Cider Chicken in a skillet?


Wash and pat dry your chicken thighs. Season both sides of chicken generously with salt and pepper.




Melt 2 tablespoons of butter in a hot skillet over medium-high heat.


Add chicken and sear until nice skin has a nice golden color, about 5 minutes per side. Set aside on a plate.




Lower the heat to medium and add remaining 1 tbsp butter, apples, red onion slices, and herbs to the pan.


Season with salt and pepper and cook for 3-4 minutes stirring often.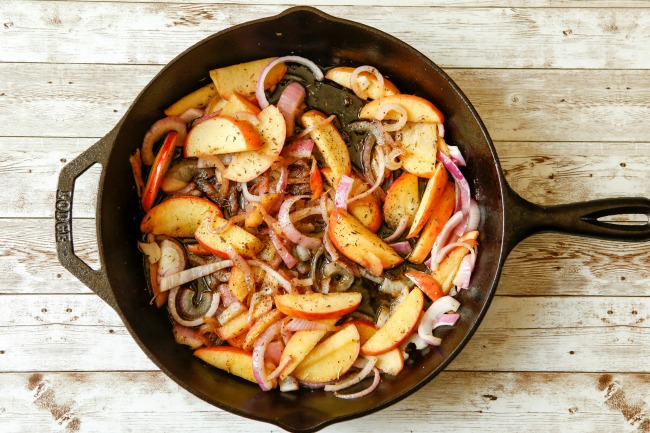 Pour chicken stock, cider, and wine into the pan. Add chicken thighs back to the pan and cook uncovered on medium heat for an additional 10 minutes or until chicken is cooked through and the sauce has reduced.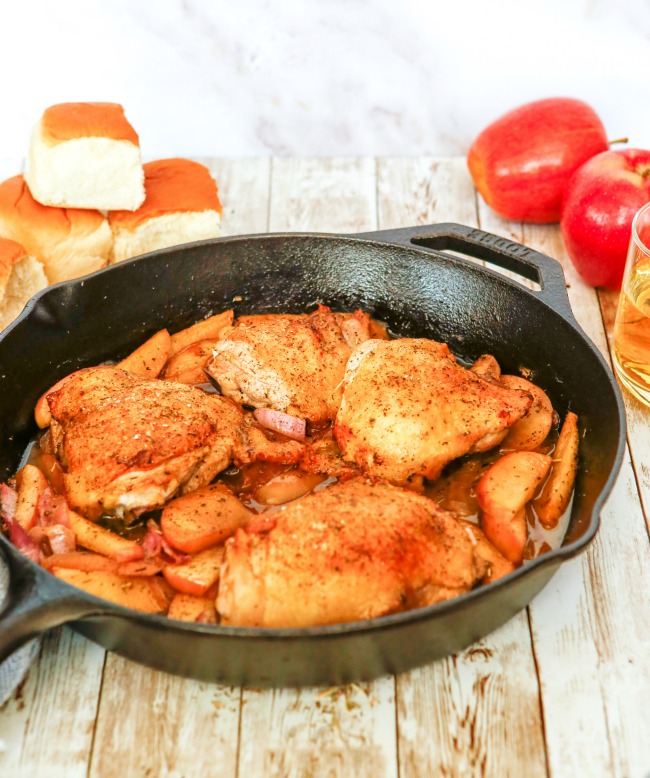 Serve warm.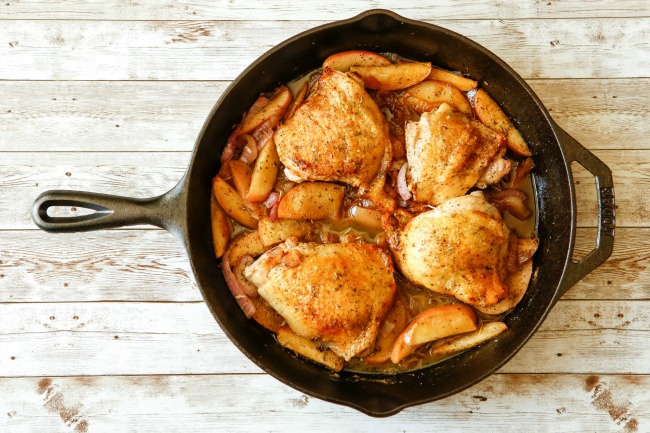 Recommended Tools to Make This Apple Cider Chicken Skillet


Apple Peeler (not necessary for this recipe but if you want to peel them this peeler is perfect)


So if you have been having the same ole boring chicken dinner recipe how about adding this one to your recipe box.


Having a side dish with this meal is definitely not necessary but served with a side of mashed potatoes is one of our go tos.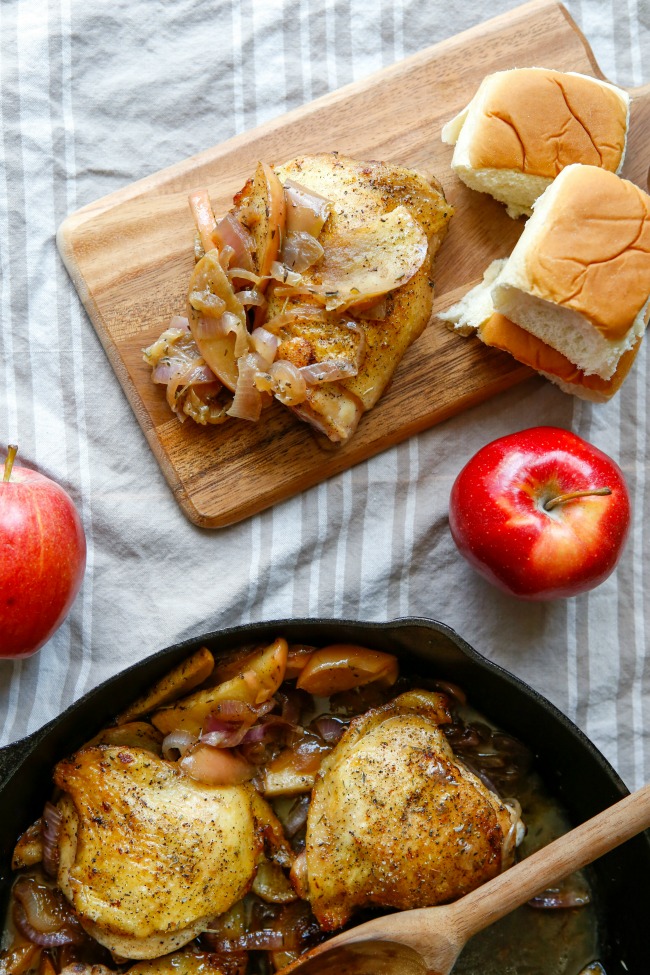 Can I use another cut of chicken?


You absolutely, but just keep in mind cooking time will vary. This dish would also be great with chicken tenders or boneless thighs.


What variety of apples can I use?


You can use any type of apple you desire, although I would suggest staying away from granny smith since they tend to be a sour apple.


Is apple cider the same as apple cider vinegar?


No, you want just apple cider (the beverage not vinegar). This recipe will certainly not taste how you want it to if you switched apple cider for the vinegar variety.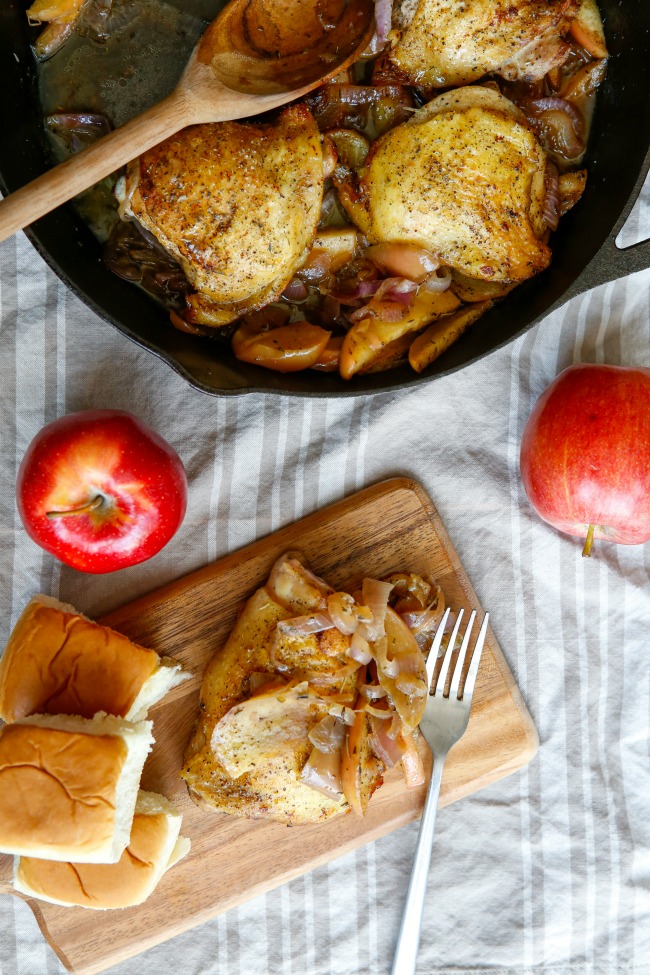 EVEN MORE DELICIOUS CHICKEN RECIPES:


Want to print this Apple Cider Chicken Recipe?