These Frankenstein Pudding cups are tasty vanilla cups tinted with ghoulishly green food coloring and topped with brown sprinkles (or crushed Oreos) making the perfect little Halloween treat.


Such fun in the classroom, or at-home snack because you can get the kids involved with making the faces of the cup and dressing up the dessert.




When you bring a batch of these Frankenstein Pudding Cups, everyone's favorite green monster will be the talk of your next Halloween party.


We loved that these can easily be brought to school or co-op sealed so no worries about that.


So whether you are going to create several for a group of kids, send a single one to school for lunch, or make a few for an after-school snack get your mad scientist skills on and create this sweet little monster Halloween treats. So much fun!


Ingredients you will need!


Vanilla Pudding Cups (You could also use Banana Pudding)
Chocolate Sprinkles (or crushed Oreo cookies)
Black Permanent Marker


How to make Frankenstein Pudding Cups!


To make these little pudding cups I personally recommend taking them with their monster face already pre-made.


Then you can just bring in the food coloring and brown sprinkles to the classroom for the kids to finish off the treat. But, if you want to allow the kids to create the faces that of course works too.


To decorate the faces just use adhesive-backed wiggly eyes, or attach them with hot glue, and draw on the face with a sharpie on the outside of the cup.


Once you get to the school or whatever Halloween party you are attending just add in a drop or 2 of green food dye coloring per each cup. Then you can add a few sprinkles (or crushed chocolate sandwich cookies) on top for the hair. Tada!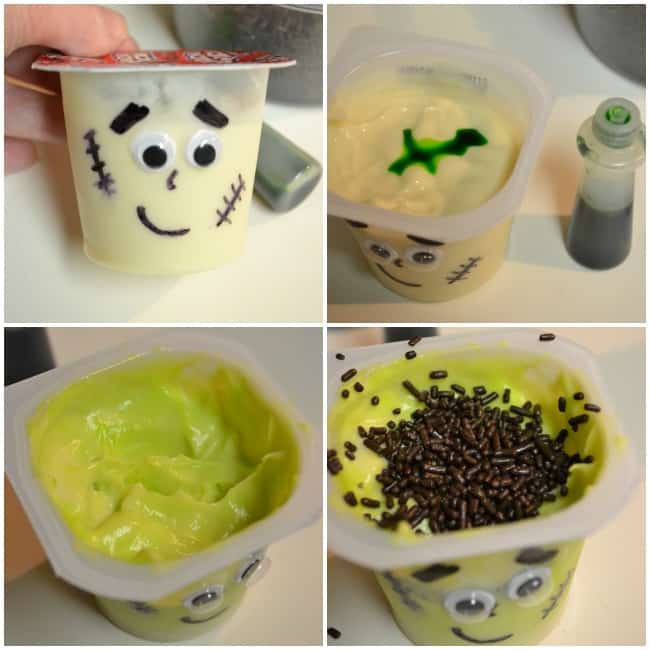 Other Halloween pudding cup variations!


We love the idea of creating different variations and allowing the children to use their imagination for their own character. This also gives you the ability to have different flavors of pudding offered.


Mummy Pudding Cups – As simple as wrapping some gauze around the cup and adding wiggly eyes.

Bat Pudding Cups – This would be great for chocolate pudding cups. Make the wings and ears out of construction paper or felt.

Witch Pudding Cups – Also using green pudding, you can add little hats and yarn hair to make these little ghouls.

Pumpkin Pudding Cups – You could also make really simple and cute pumpkins by just adding orange food coloring and drawing on a jack-o'-lantern face.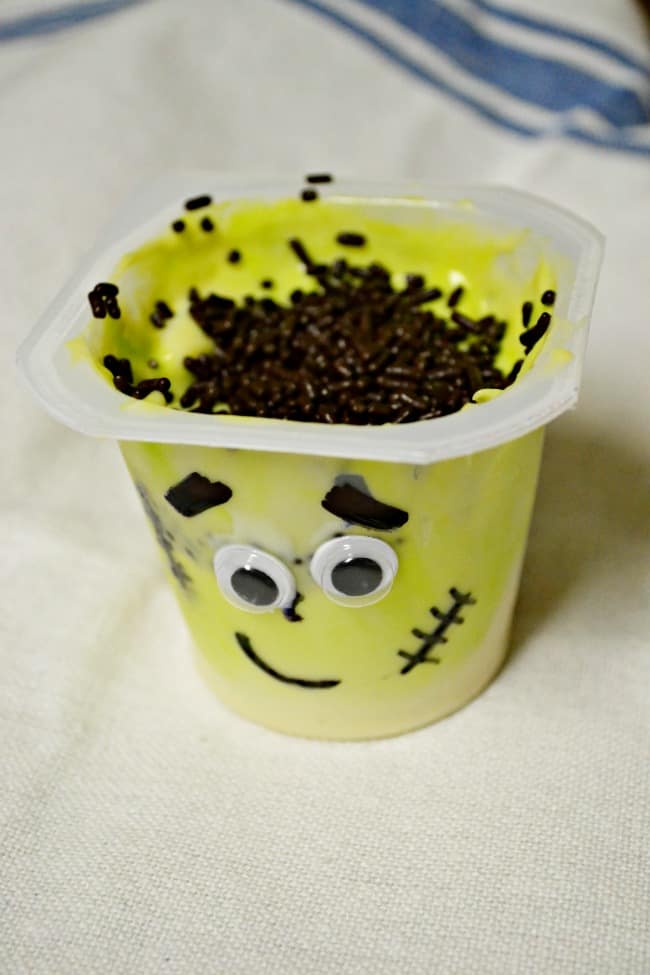 More Halloween Dessert Treats:


Want to print or save this idea?