Biscuit Donuts…. What?
Yes…and they are oh soooo yummy! 🙂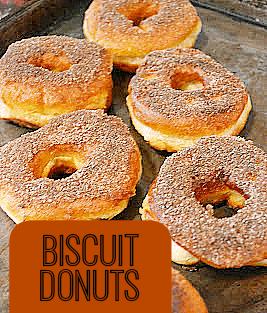 sugar
butter
cinnamon
biscuits (any kind will work except flakies)
oil
Directions:
Melt 4 tbsp of butter in microwave and set aside. Mix sugar and cinnamon on plate so it will be ready to dip donuts. I don't have exact measurements for the cinnamon or sugar. I just put the sugar on the plate and poured some cinnamon on top, mixed it around until a had a nice light brown mix. I then poured about 1/2 inch of oil in my skillet and let it get hot while making the holes for my donuts.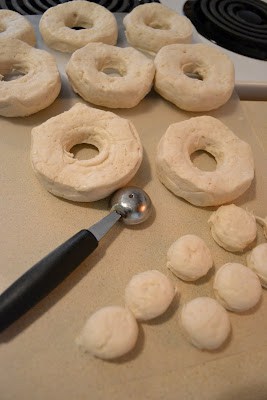 I used a melon baller to make my holes but you can use your finger or whatever you have available.
After your oil is hot and ready to go carefully place the donuts in and let them brown.
Once they are brown on one side flip them to brown on the other side.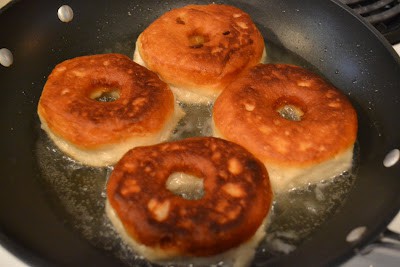 After the donuts have cooked fully on both sides take them up and place them on a napkin lined plate or pan. Once they have cooled you will then dip one side in the melted butter (let drip) and then dip into the cinnamon/sugar mix. You will then do this process on the other side and continue on with the other donuts. All done… Enjoy!
I cooked the little cut outs too, waste not want not. 😉 I'm going to be honest and say they were the best part. I actually might just make little donut holes from now on. haha