These Chocolate Covered Strawberry Carrots are the perfect treat to serve for Easter.


Fresh strawberries that are dipped and drizzled with orange candy melts make them look just like a sweet little carrot.


All you need is some crushed cookies to look like dirt and you will have the cutest little carrot patch ready to celebrate the spring holiday.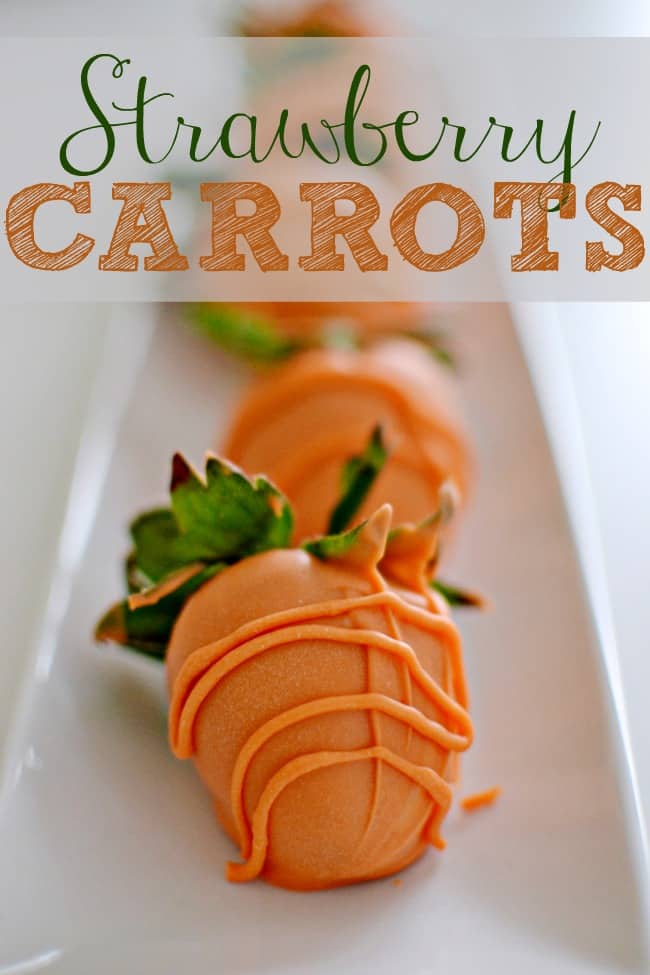 We love this simple and quick dessert recipe because it is so easy to get the kids involved and have fun in the kitchen.


Ingredients you will need for Chocolate Covered Strawberry Carrots


Fresh Juicy Strawberries – Be sure to leave the tops on so that your sweet little carrots will have their green tops.



Orange Candy Melts – If you don't like the taste of these candy melts you can also use white chocolate and then dye it with orange food coloring to create the perfect orange color.



Crushed Chocolate Sandwich Cookies (optional)



I also recommend purchasing a candy melting pot. They make the process of coating strawberries, cake pops, etc super easy.


How to make Easter Strawberries


Wash and allow your strawberries to fully dry on a paper towel.


Melt your orange candy melts. As I said, I use my Wilton melting pot, which works great for melting candy or you can use a microwave-safe bowl or double boiler method.


Dip your strawberries in the melted candy (or melted chocolate) and twirl until fully coated. If you want you can take a spoon or piping bag and drizzle some chocolate or remaining melted candy across the strawberries.


Place strawberries on a parchment paper-lined cookie sheet and allow them to set.


Now you are ready to enjoy.


You can serve just as cute little carrots or layer the bottom of a tray with crushed cookies to make a little chocolate dirt and layer them on top.


This idea is especially cute if you are taking them to an Easter get-together.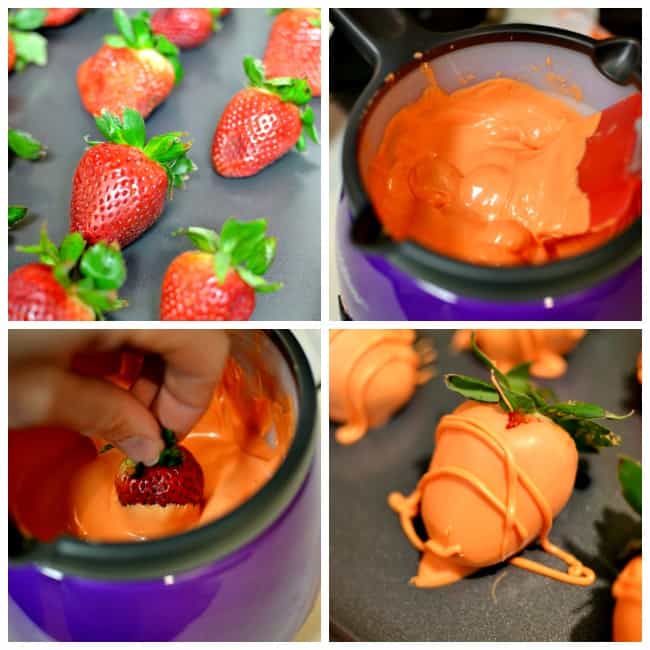 How far in advance can I make these strawberry carrots?



You could definitely make them the day before but quite honestly they are better made fresh. If you really want to make them in advance I would make them only a few hours ahead of time.
Where is a good place to serve these strawberries?


These are perfect for Easter of course so whether you are having a brunch or a snack after the big Easter egg hunt.
They would also work great for any spring event such as a birthday party or baby shower.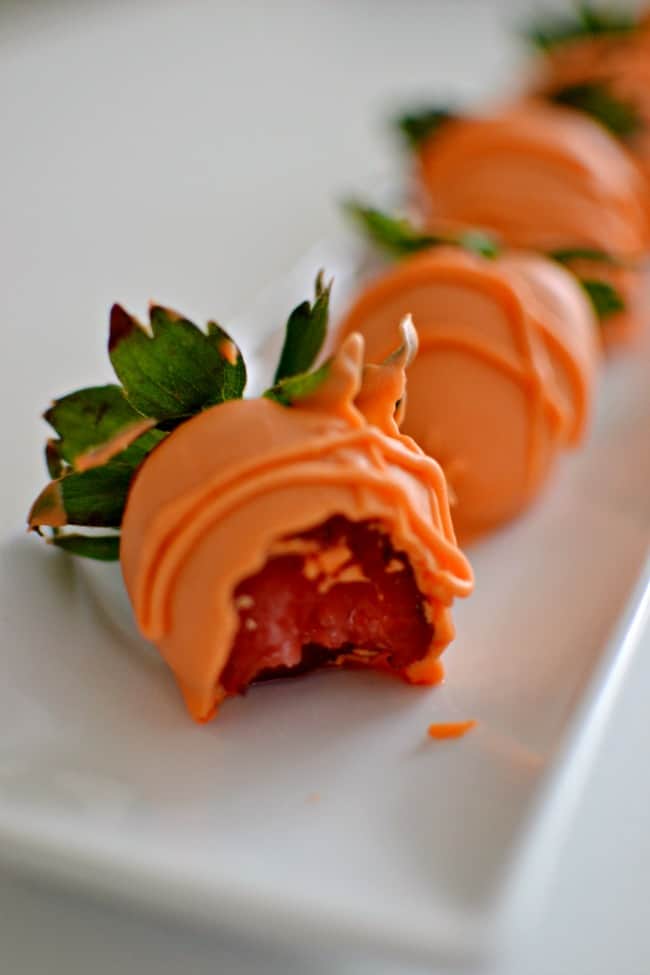 More Strawberry Recipes:


Looking to print or save this Chocolate Covered Strawberry Carrots recipe?