Celebrate the day of love with this yummy and refreshing, sweeter than candy, Valentine's Day Party Punch, perfect for V-day, baby showers, bridal showers, church potlucks, family get-togethers, and more.


A delicious fan favorite when it comes to the best Valentine's Day themed drinks.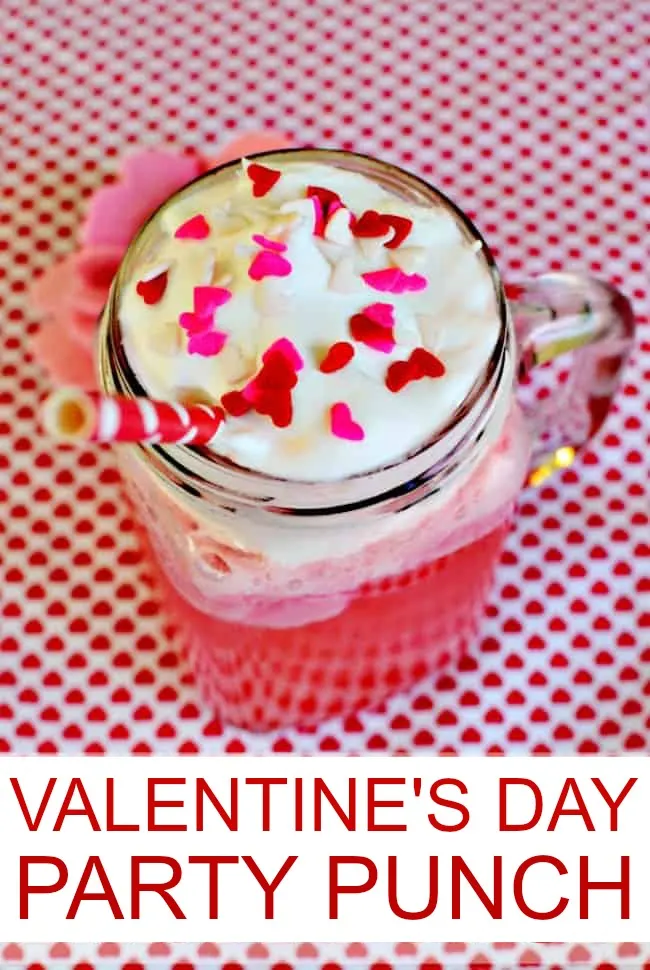 This love potion drink is a classic holiday favorite and a very simple sherbet punch recipe.


Whether you're planning a special party for the kids, an anti-Valentine's Day bash for the girls (think, Galentine's Day), or a special evening for your sweetheart this Valentine punch is sure to thrill all your guests.


We like to call it Love Potion since the term has the meaning of a type of potion designed to create feelings of love.


Pretty perfect inspiration for Valentine's Day!




Love Potion Beverage | Raspberry 7UP Punch




Ingredients you will need to make a batch of non-alcoholic Valentine Punch


2-liter bottle of Cherry 7up
1-quart raspberry sherbet
Whipped topping & sprinkles (these are optional)


This recipe is also good with lime or strawberry sherbet but our favorite Valentine's punch is made with raspberry.




How to make Valentine's Day Party Punch!


Pour your 7up into a punch bowl or gallon drink pitcher. Place scoops of raspberry sherbet in and stir to mix. I know, this Valentine's Day Punch is too easy, right? Exactly why I love it so much.




Individual Size Valentine's Day Party Punch Drinks


Pour a glass of Cherry 7up and drop in one scoop of sherbet. We topped ours with whipped topping and sprinkles to add that extra touch of fun.




If you are looking to make these Valentine punch drinks you might also like to have these products on hand.




Even more yummy and delicious drink recipes




Want to print or save this recipe?