4th of July is just right around the corner so we are enjoying crafting up some fun crafts related to the holiday.
Today's craft is a super cute use of an upcycled food container, a 4th of July Firecracker craft.
4th of July Firecracker Craft
(This post contains affiliate links.)
SUPPLIES YOU WILL NEED:
Canister (We used an old Nestle container. You could use anything from a pringles can to an old soup can.)
Avery Sticker Paper (optional)
Star Punch (optional)
DIRECTIONS:
The directions are very basic and simple. All you need to do is choose a 4th of July firecracker craft design and paint it.
If you use a Nestle container or something else with a dark graphic I recommend painting on a couple coats of primer (or just white paint) first.
You can paint on stars or if you have a star punch do like we did and punch out white sticker paper and attach the sticker stars.
Now that your design is painted and dry you can drill a hole in the top of the container lid (paint it if you need to as well) and then slide your rope through the hole. We just tied a knot on one end so that it wouldn't go all the way through but you could also hot glue that part if you needed to.
Also to note, we used a wood burner to melt the edges of the rope so that it would not fray. You could also do this with a lighter. Just don't allow your kids to do this step.
I hope you enjoyed this fun and super simple 4th of July Firecracker Craft. It's a great way to keep the kids occupied this summer and enjoy the patriotic season.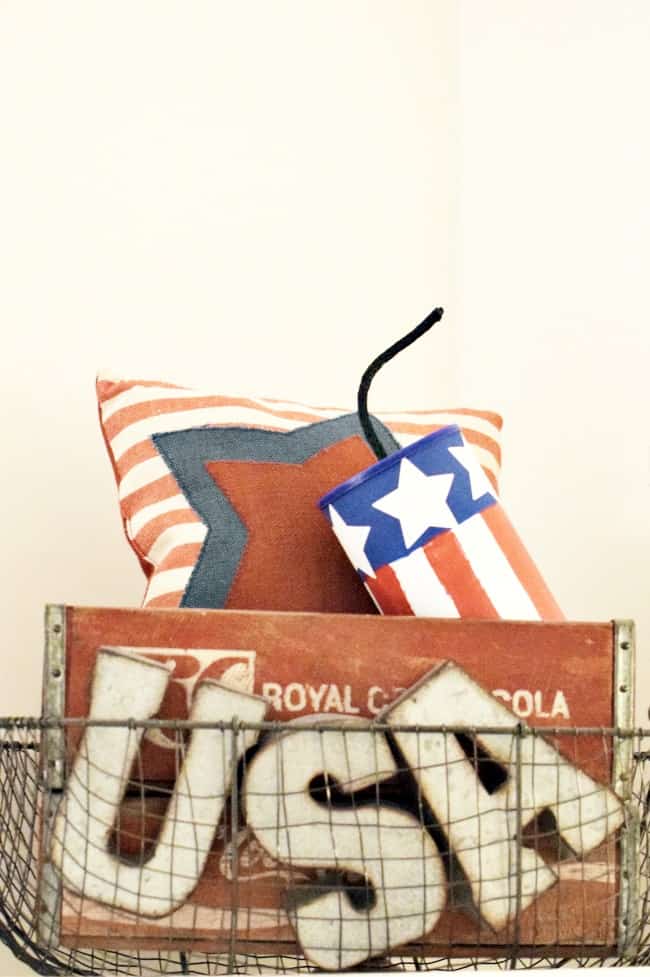 ---
If you enjoyed this 4th of July Firecracker Craft you also might enjoy…