These red, white, and blue Patriotic Pretzel Rods are one of the easiest sweet and salty snack treats you can throw together for a 4th of July celebration, and of course, they are loads of fun to eat as well.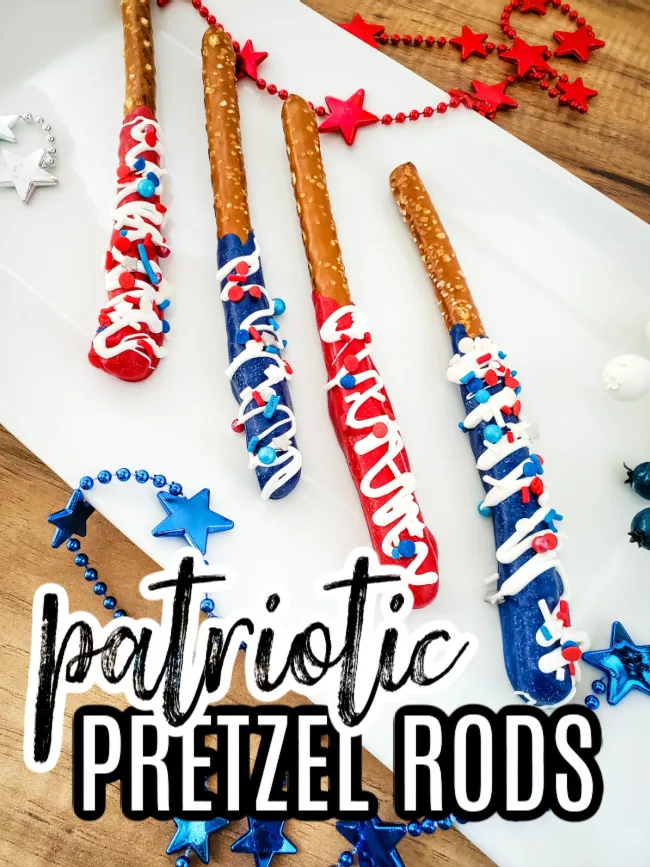 They also work great for Memorial Day, Flag Day, etc. but with just a little switch of the candy colors and you can make them a great fit for any holiday or party.


Patriotic Pretzel Rods are super simple and easy enough that you can get even the littles involved in helping make them.




The ingredients you will need… Well, there really isn't much to this other than some pretzel rods and red, white, and blue candy wafers. Oh yeah, you might want to grab some fun sprinkles to go along with them as well.


Other than that you are ready to throw together this simple dessert in 5 minutes tops.


Here is what we used specifically for this recipe.


12 oz bag pretzel rods
1 cup blue candy melting wafers
1 cup red candy melting wafers
¼ cup white candy melting wafers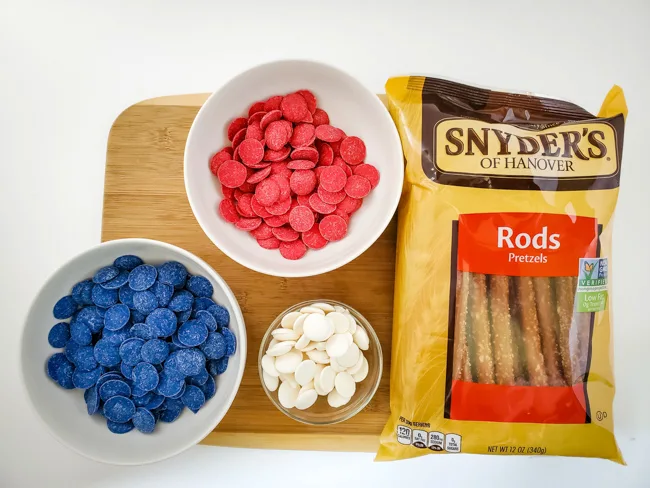 How to make Patriotic Pretzel Rods


Line a baking sheet or tray with parchment paper, or use one of these handy silicone mats.


Place your red and blue candy melts into separate microwave-safe bowls and heat in 1-minute increments, stirring between each session, until candy is fully melted.


Once your wafers are fully melted you are ready to dip your pretzels in the melted candy, use a spoon to help pour the candy over, covering about half of each pretzel. Place on the parchment-lined baking sheet to set.


HANDY TIPS: You can use a microwave-safe disposable cup to melt your blue and red wafers in. When it comes time to dip the pretzels just dip them in and swirl them around to coat. Tap off the excess and toss the cup for easy cleanup afterward.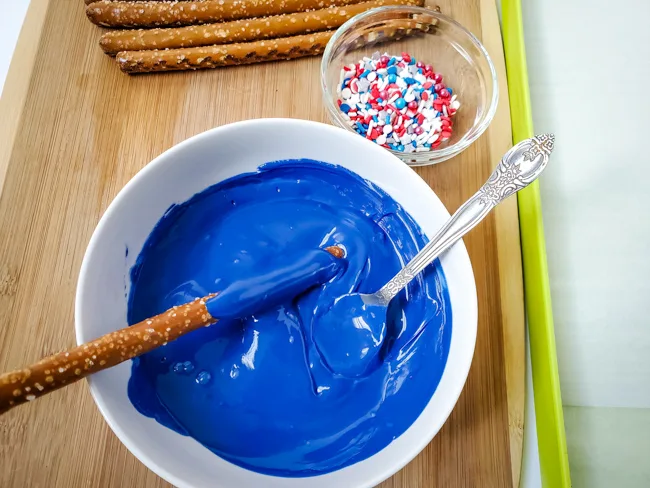 Once the coated pretzel rods are cool, add white candy melts to a bowl and heat in the microwave for 30-second increments, once fully melted, transfer to a zip lock bag or piping bag. If you feel comfortable you can even microwave the wafers directly in a zip lock bag.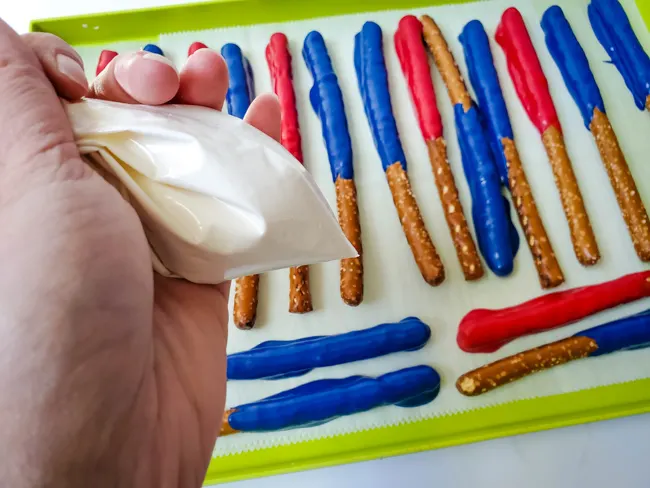 Snip the very corner of the bag off with a pair of scissors, and using a back and forth motion, drizzle white candy over each pretzel.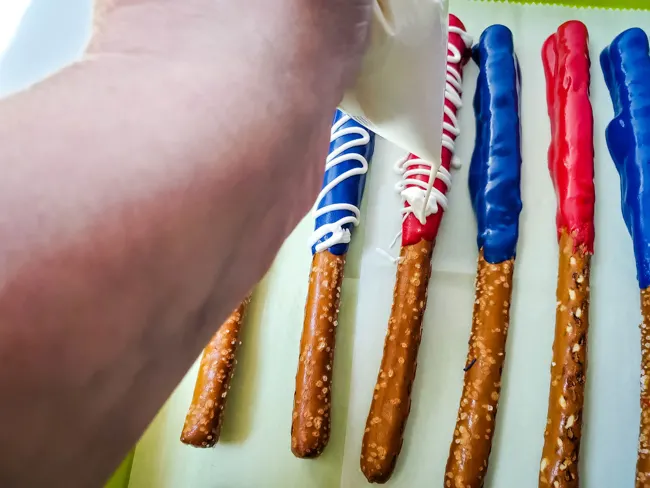 While the drizzle is still warm, top with sprinkles.




How long does it take for chocolate-covered pretzels to set?


Candy wafers typically set quickly, within 10 minutes, but you can also place the cookie sheet in the fridge to make that dry time even quicker.


How long do candy-coated pretzels last?


These patriotic pretzel rods will last up to 2 weeks if they are stored in the refrigerator in an airtight container. Because you can store these for up to 2 weeks that means that you can make them ahead of any celebration you have coming up. Sweet! I love being able to make something ahead of time.




These pretzel rods look so pretty served in different jars and vases.


Even more 4th of July treats you don't want to miss!


Want to save this recipe?