These Cinco de Mayo books for preschoolers are great resources to teach young learners about Mexican heritage and cultural awareness, whether you are planning to use them at home or in the classroom.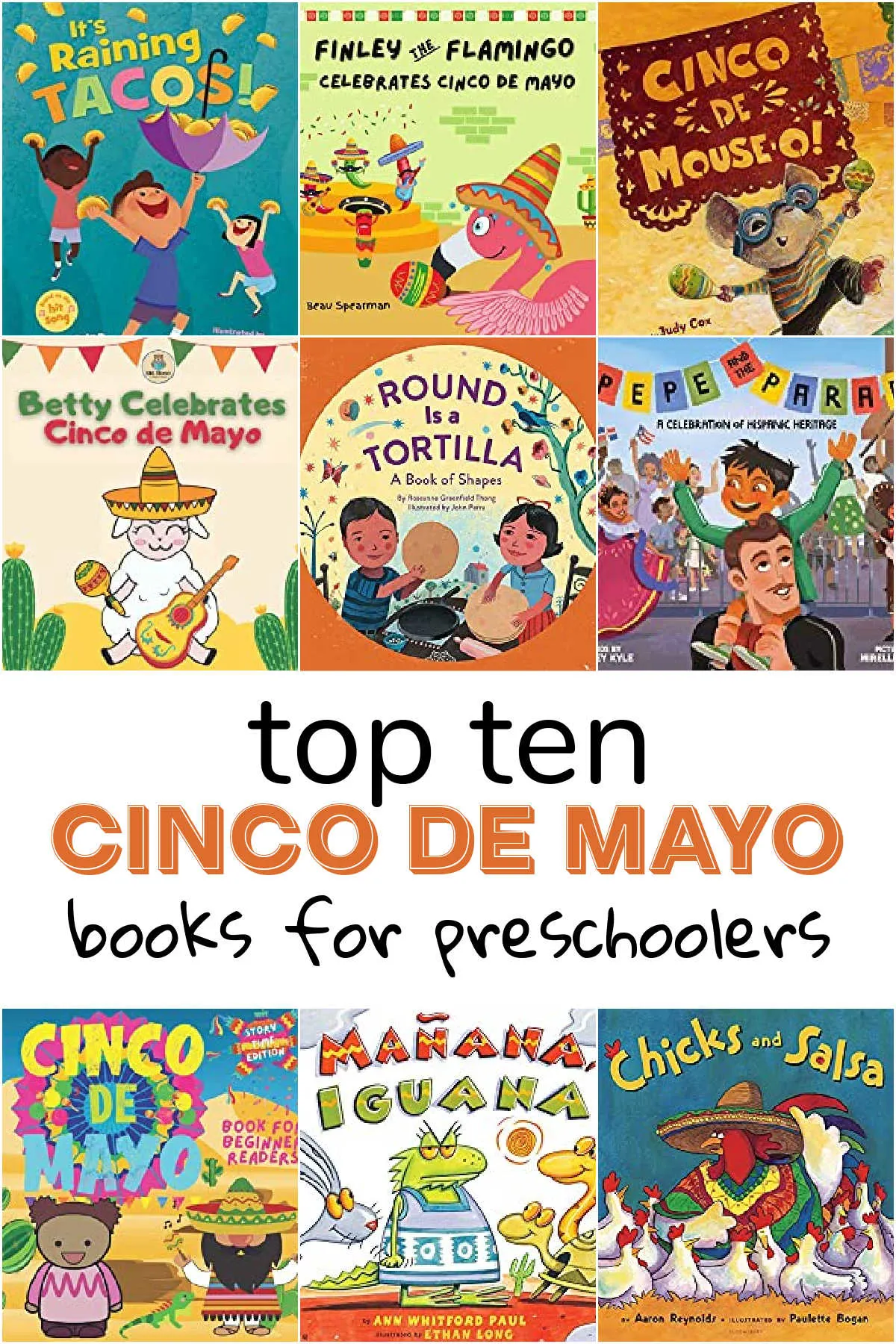 How do you teach kids about Cinco de Mayo?


One of the very best ways to teach preschoolers about the 5th of May is to read books about the history of the holiday and stories that celebrate authentic Mexican culture.


Want their little hands to be occupied while reading to them? Check out these fun Cinco de Mayo Crafts, perfect for going along with these books.




Top 10 Cinco de Mayo Books for Preschoolers




Why do people celebrate Cinco de Mayo?

Join Flo as she and her Dad learn about the history behind the events celebrated in Mexico and by many people in the United States on May 5th. This rhyming reader retells the historical significance of this Mexican holiday.

Empower your Beginner Reader with historically accurate information while increasing their reading fluency.




In this lively picture book, children discover shapes all around them: rectangles are ice-cream carts and stone metates, while triangles are slices of watermelon and quesadillas.


Many of the featured objects are Latino in origin, and all are universal in appeal.


With rich illustrations, a fun-to-read rhyming text, and an informative glossary, this playful concept book will reinforce the shapes found in every child's day!




Yum! Yum! A delicious smell wakes up Mouse on the fifth of May!


He follows his nose down the street to a Cinco de Mayo festival. High up in a tree he spies a piñata magnifica. If only Mouse could get just one piece of candy from it. But look out! Cat is on the prowl. He is planning a fiesta of his own, and Mouse is on the menu.

Sprinkled with a few words in Spanish, this Cinco de Mayo adventure is a great read-aloud for pre-school and kindergartners interested in other cultures or in sharing their own. The art is appealing and kid-friendly and filled with energy.




Betty Cottonball loves traveling. What country will she visit this time? Join the extraordinary journey to Mexico!


Learn about Mexican heritage, let's go to the fiesta and explore Mexican food, music, and dancing.


Follow the whole series of Betty Cottonball books, and discover the beauty of cultural diversity.




What happens at Nuthatcher Farm when the chickens get tired of the same old chicken feed?


The rooster hatches a plan, of course! With a pinch of genius, a dash of resourcefulness, and a little pilfering from the farmer's garden, the chickens whip up a scrumptious snack of chips and salsa.


When the rest of the barnyard gets a whiff of the spicy smells and wants to join in, it can mean only one thing . . . FIESTA!


But when the big day arrives, all their spicy southwestern supplies are gone! It seems that Mr. and Mrs. Nuthatcher has caught on to the flavor craze as well, and the only thing left for the animals to do is to try a new culinary style-ooh la la!




Cinco de Mayo, or the Fifth of May, honors an important battle fought by the Mexican army in 1862.


On this day, people celebrate with Mexican food, music, and dancing. Sing along as you explore Holidays in Rhythm and Rhyme! Includes online music access.




Finley The Flamingo loves spending the day with his Granny. To his surprise, she is taking him to a Cinco De Mayo festival.


Meeting a new friend, can Finley find fun in learning about new customs? Can a pink flamingo learn to eat a taco or dance to a mariachi band?


If your children enjoy humorous fun and thoughtful actions, then they will love this funny story about finding your forever friend.




Join Pepe as he celebrates his Mexican-American heritage by participating in a Hispanic Day parade. Children will delight in seeing many Hispanic cultures proudly honored in this joyous picture book.


Pepe wakes up energized to attend his first Hispanic Day parade. With new food to taste, music to dance to, and a parade to watch, Pepe couldn't be more excited to celebrate and share his Hispanic heritage.


With Spanish words effortlessly included throughout, this title is a great introduction to the Spanish language.




Wildly fun and full of laugh-out-loud antics, this interactive sing-along is a zany romp sure to capture fans.


Taco-bout irresistible! Jam out to the catchy, toe-tapping tune "Raining Tacos" from YouTube sensation Parry Gripp, featuring everyone's favorite treat!


This spec-taco-ular, goofy song, with new, never-before-sung lyrics, is perfect for sharing, so grab a few friends—young or old—and get ready to crunch your way to a good time!




Iguana is planning a fiesta, but her lazy trio of friends loses out in this clever update of the story of the Little Red Hen, with a Mexican twist.