We don't need an excuse to eat all the chips and salsa, but if you do throw a festive fiesta with these Cinco de Mayo party ideas that your family and friends are sure to enjoy.


So whether you are getting ready for a Cinco De Mayo celebration or just a random Tuesday night fiesta celebrate with yummy recipes, fun and colorful decorations, and more that are perfect for your next party.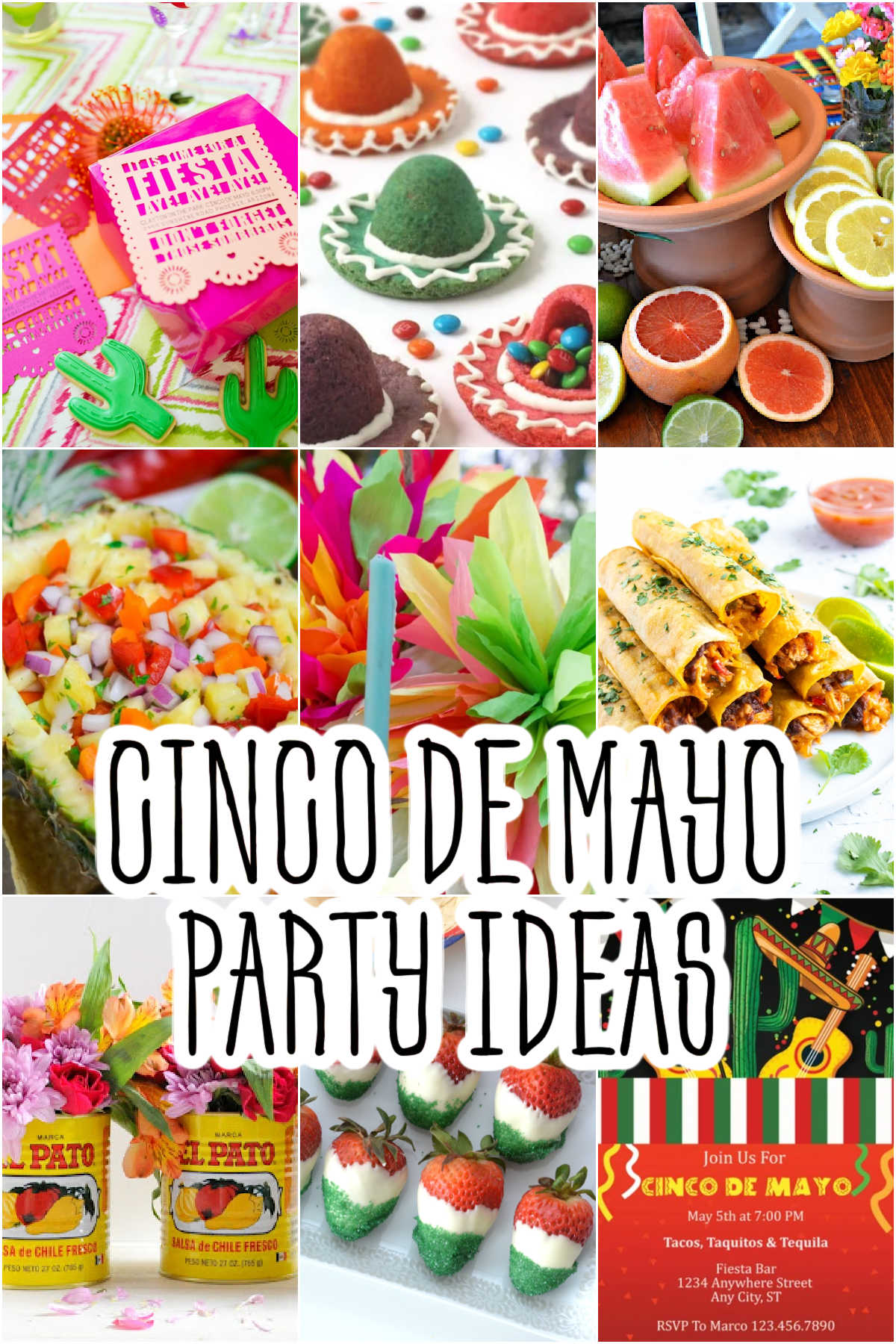 History of Cinco de Mayo


Cinco de Mayo, which is Spanish for "fifth of May", is a celebration held every year on May 5 to commemorate the date of the Mexican army's victory over France at the Battle of Puebla during the Franco-Mexican War.


The date is observed in the United States as a celebration of Mexican culture, heritage, and pride.


Today, revelers mark the occasion with parades, parties, mariachi music, Mexican folk dancing, and traditional foods.


Easy Cinco de Mayo Party Ideas


Get the Party Started


Festive Invites


You can't get the party started without letting everyone know you are actually throwing one. Reflect your festive theme by making sure your invites are on-brand.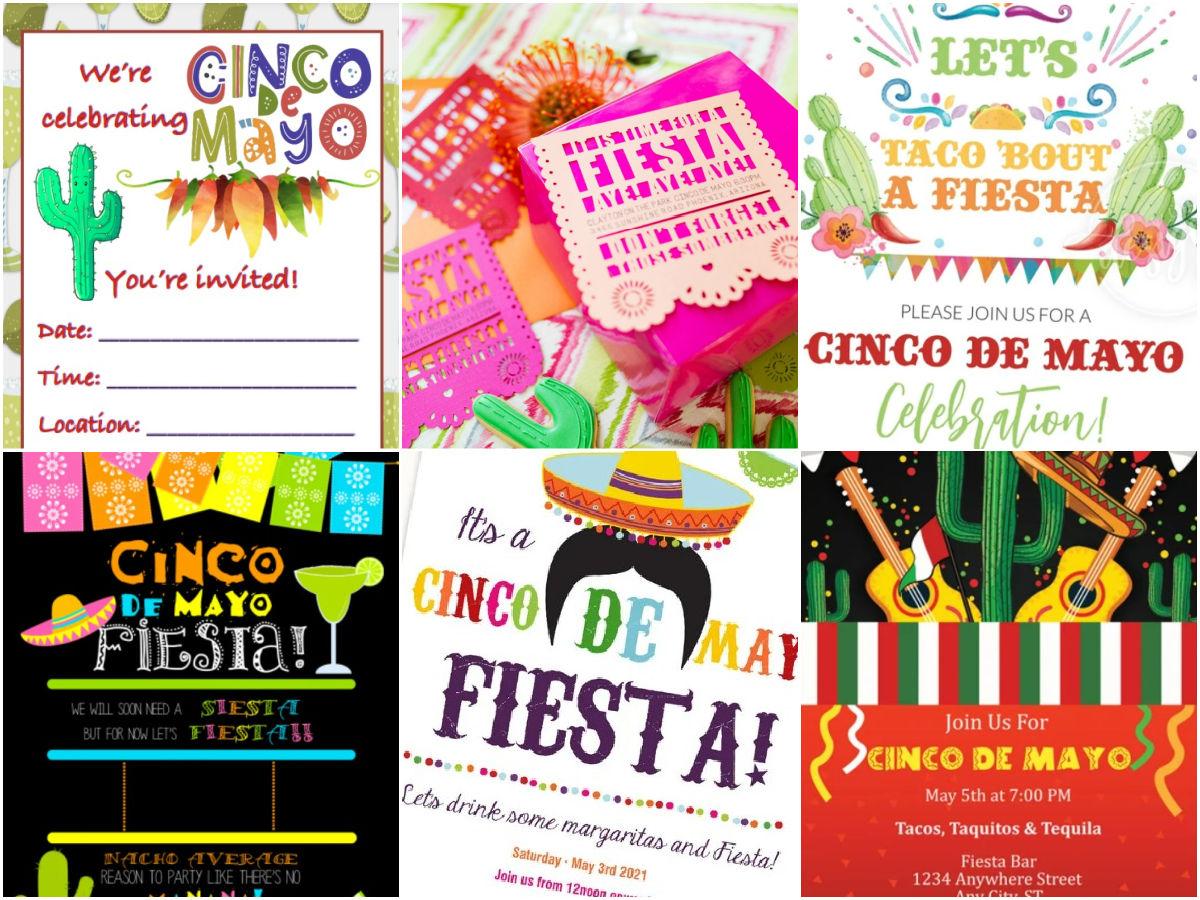 Start the fiesta off right with a free printable Cinco de Mayo invitation. 3 different designs by The Housewife Modern. Just print, fill in your details, and send!


Get your guests excited for the big day with this fun and unique DIY Cinco De Mayo Party Invitation by Idieh Design. These funky invites are a great way to brighten up your guests' day (and mailbox for that matter!).


Love the colors in this fiesta party invitation by Party like a Cherry, perfect for a Cinco de Mayo bash.


Cinco de Mayo Let's Taco 'Bout a Fiesta invitation by Cafe Latte Designs is an editable e-invitation card with taco, cactus, and festive colors. Personalize this Cinco de Mayo invitation and send it by email, through social media, via text message or print it out.


A fun and festive Cinco De Mayo Fiesta Invitation by Sunshine Parties with fun, brightly colored banners, and a sombrero topping off a mustache and matching colorful text.


Food, friends, and fiestas. Celebrate Cinco de Mayo with these fun invite by Prestige Event Designs.


Cinco De Mayo Pinatas


Christian piñatas are traditionally seven-pointed stars. Each point represents one of the seven deadly sins and the candy inside represents the temptations.

The stick used to maim the piñata and the person wielding the stick are symbols of the faith that can destroy evil.

Now piñatas are commonly made in the shape of donkeys, a tradition for the festival of Our Lady of Guadalupe because the donkey is what carried the Virgin Mary to Bethlehem where she gave birth to Jesus.

Piñatas don't carry as much religious weight as they used to and are mostly used as decoration these days.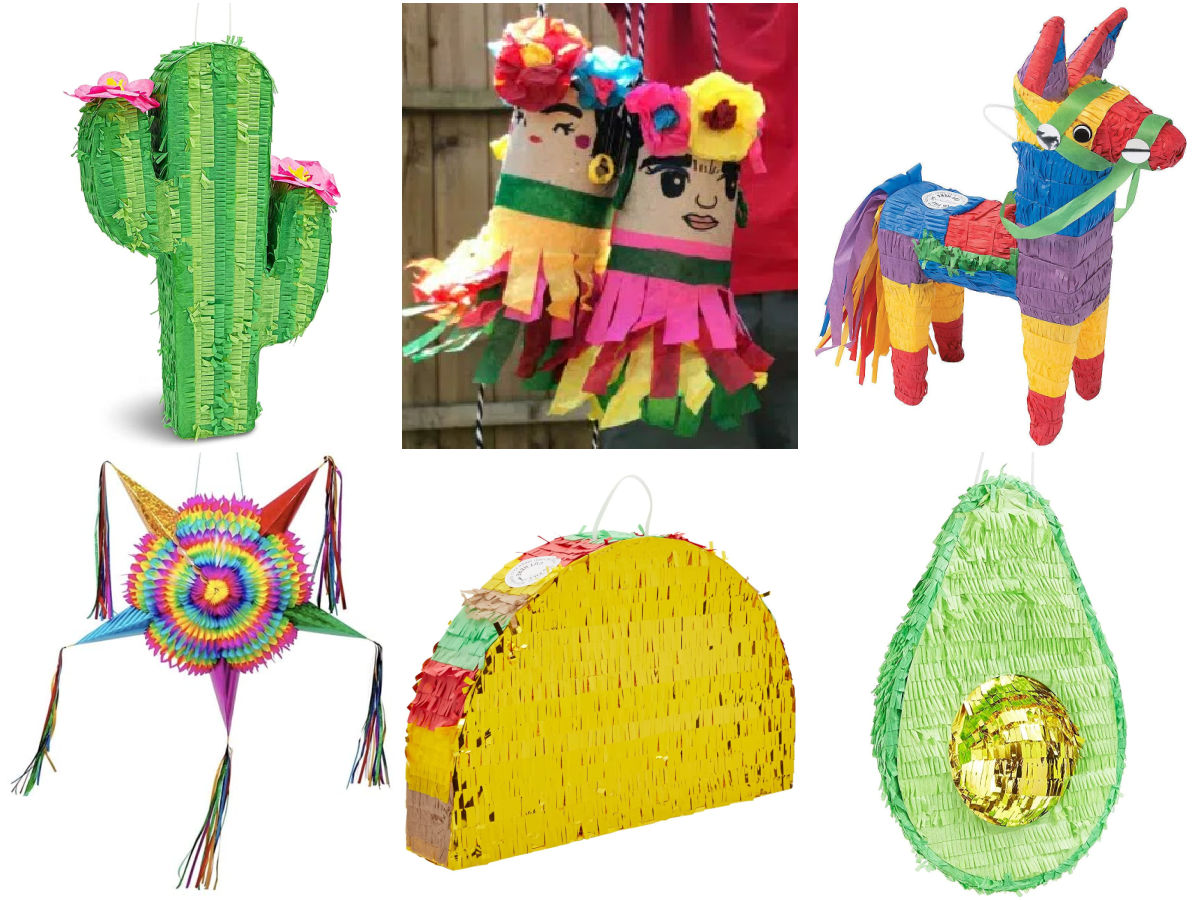 Use a toilet paper roll and some crepe paper to make the cutest Frida Kahlo Pinatas by Red Ted Art.


Turn your event into a fiesta with this cactus-shaped pinata or avocado pinata.


Display the funny pinata on the dessert or dining tables to instantly elevate the taco birthday party decorations, or hang it from the trees, railing, or roof.


No Mexican fiesta would be complete without a piñata, so add this donkey piñata to your Cinco de Mayo decorations!


Every Mardi Gras and Cinco de Mayo party is just a little more festive with a piñata! This one can hold candy, but can also serve as just eye candy dangling from the rafters!


Cinco De Mayo Decorations and Tablescapes


Whether you're hosting a fiesta for the May 5th holiday or just serving Mexican food at your next dinner party here are some fun decorations and tablescapes to set the mood. We love all the bright colors.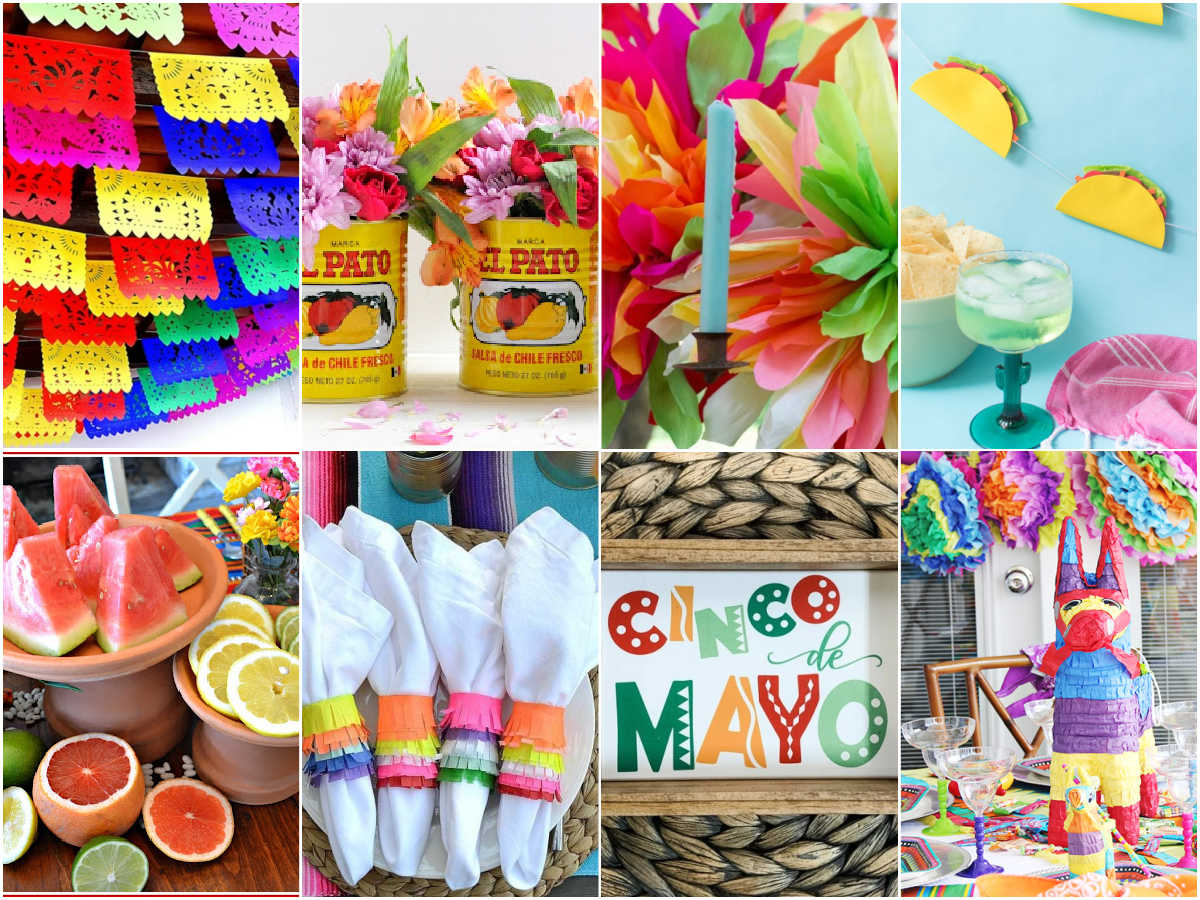 Turn a few simple supplies into the cutest clay pot sombrero that will jazz up your Cinco de Mayo fiesta with these used as centerpieces or place holders.


These crepe paper flowers by Sparkling Charm as an inexpensive and colorful way to add a fun and festive touch to your party.


Fiesta Fun Dinner Party Tablescape by The Crafting Chicks is the perfect way to dress up your table for an upcoming Cinco de Mayo or other fiesta party idea.


Nothing says PARTY like tacos, right? This simple taco banner by Club Crafted is made out of a combination of craft foam and tissue paper to make all of the taco fixings.


Clay pots, faux cactus, faux flowers but honest to goodness real fruit… Love this tablescape by Corners of Plaid and Paisley.


A beautiful Mexican blanket inspired these cute little Cinco De Mayo napkin rings by Hey There Hello.


How cute is this idea to turn beautifully graphic-designed tomato cans into flower vases. A Pretty Cool Life showed exactly how she turned these inexpensive cans into something amazing.


Add extra decor to your next Fiesta or Mexican-themed wedding with these beautiful multicolored paper banners.


Cinco de Mayo Sign makes an excellent addition to your fiesta decor. The sign looks great on tiered trays and shelves.


Cinco De Mayo Party Food


What are typical foods served at Cinco De Mayo?


Molé
Chilaquiles
Tamales
Carnitas
Barbacoa
Fish Tacos
Horchata
Mexican Street Corn
Pozole
Margaritas
Guacamole


Whether you're having a big get-together or celebrating solo, don't skip the fun Mexican-inspired food this Cinco de Mayo. These Mexican favorites have Cinco-star reviews.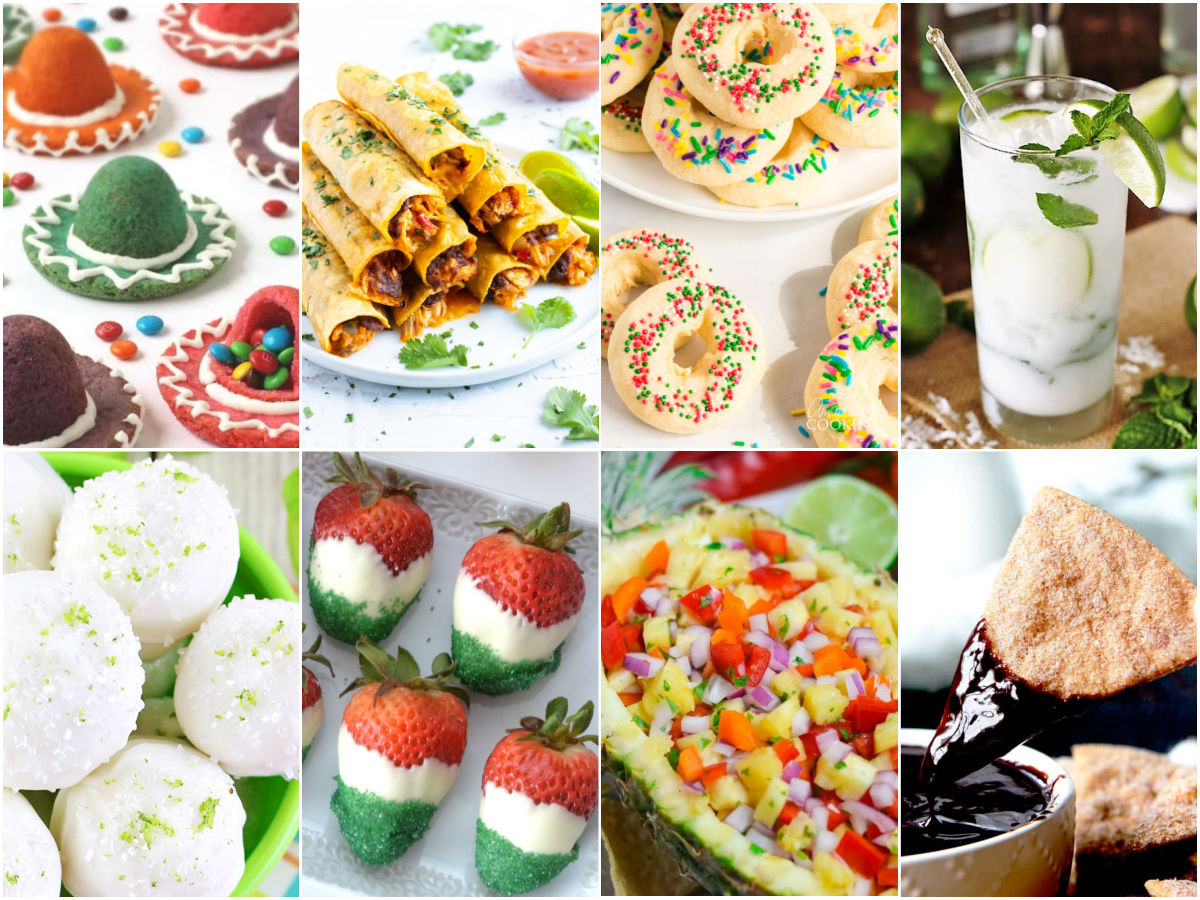 This Spicy Jalapeno Margarita is a fun twist on the classic recipe that is perfect for entertaining, whether for Cinco de Mayo or as a delicious summertime staple.


Chocolate-covered strawberries can be made to match any theme or holiday, even Cinco de Mayo with the colors of the Mexican flag! Check out how Building our Story created theirs.


Easy-baked churro chips by Carlsbad Cravings are magically transformed from flour tortillas dusted with cinnamon and sugar to mega yummy treats that you can stop munching.


Mexican Cookie Rings by Amanda's Cookin are a delicious buttery sugar cookie with a pretty presentation. These soft Mexican cookies would be great for a birthday party, Cinco de Mayo celebrations, or just when you want a chewy sugar cookie.


This Baked Chicken Taquitos recipe by Evolving Table is an easy and healthy way to enjoy the frozen classic! Pre-cooked shredded chicken gets mixed together with diced onion, chunky salsa, refried black beans, and cheddar cheese for a quick and delicious homemade filling.


Break open one of these colorful Sombrero Piñata Cookies by Hungry Happenings to reveal the surprise inside!


Who says you can't have your margarita and eat it too? This Boozy Margarita Cake Balls recipe by Homecooking Memories is proof that you can have both!


This pineapple salsa by A Dash of Megnut is made from simple ingredients, tastes bright and fresh, and is served in a pineapple boat! Gluten-free, dairy-free, and vegan.


Ditch the margaritas, and enjoy a refreshing Coconut Mojito by The Kitchen is my Playground for your Cinco de Mayo … or any day … sipping. Such a delicious combination of fresh mint, lime, & coconut!


Cinco De Mayo Games and Activities



Of course, we truly think if you are going to throw a party, no matter the theme, you have to have some fun games and activities.


Pass the Sombrero – Much like musical chairs, guests pass the hat and when the music stops, the person holding the hat is out.
Get your guests shaking more than just their maracas! Bring in a trained professional to teach the group how to samba, salsa, rumba, and more.


More Cinco De Mayo Party Ideas and Supplies




Even more holiday posts you don't want to miss!