Red Lobster Cheddar Bay Biscuits are so delicious and simple to make, in right around 20 minutes you can have the best buttery, garlicky, and stuffed with cheesy goodness biscuit you have ever eaten.


These homemade cheddar bay biscuits are a copycat version of the famous recipe from Red Lobster but in my opinion even better than the box mix.


No need to hit up the restaurant, with this easy recipe you can indulge in these anytime you want. If you have never had them before then wait no longer, cheese, butter, garlic. I mean! So good!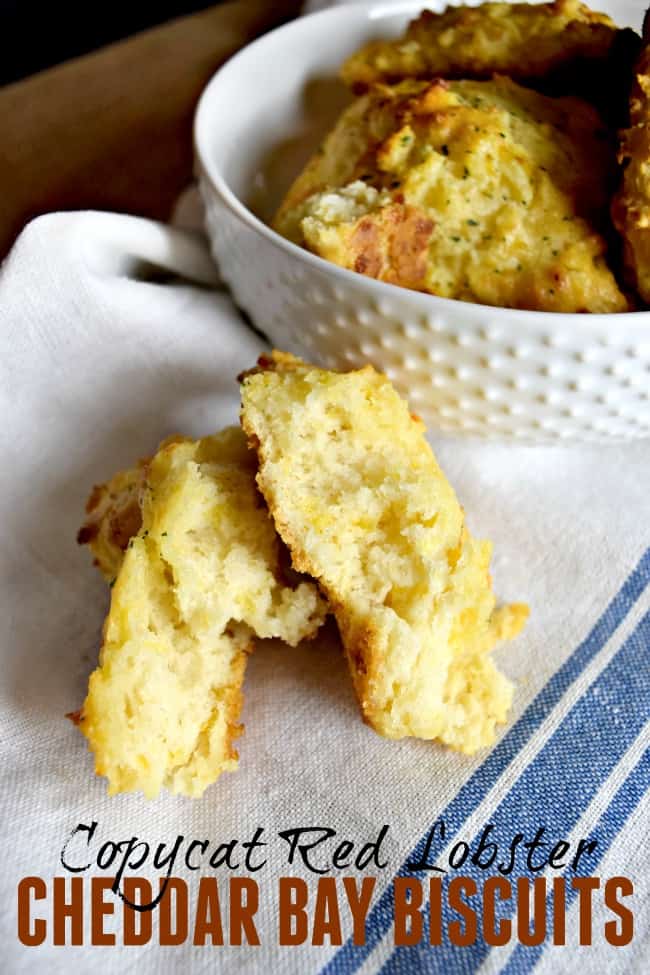 When it comes to food that I absolutely can not resist it usually has something to do with bread.


Whether that means rolls, biscuits, or fresh bread. I am game for them all. That is the reason I love this copycat Red Lobster cheese biscuits recipe.


My husband isn't a huge fan of seafood so making it to Red Lobster doesn't happen much. I mean like almost never. Needless to say, I had to come up with a solution for my cheddar bay biscuits.


That means a homemade version was a must.


Copycat Red Lobster Cheddar Bay Biscuits Recipe


Ingredients you will need:


2 cups Bisquick biscuit mix
4 tablespoons of butter, cold
2/3 cup milk
1/2 cup cheddar cheese, shredded
2 tablespoons of butter, melted
1/2 teaspoon garlic powder
1/4 teaspoon dried parsley or old bay seasoning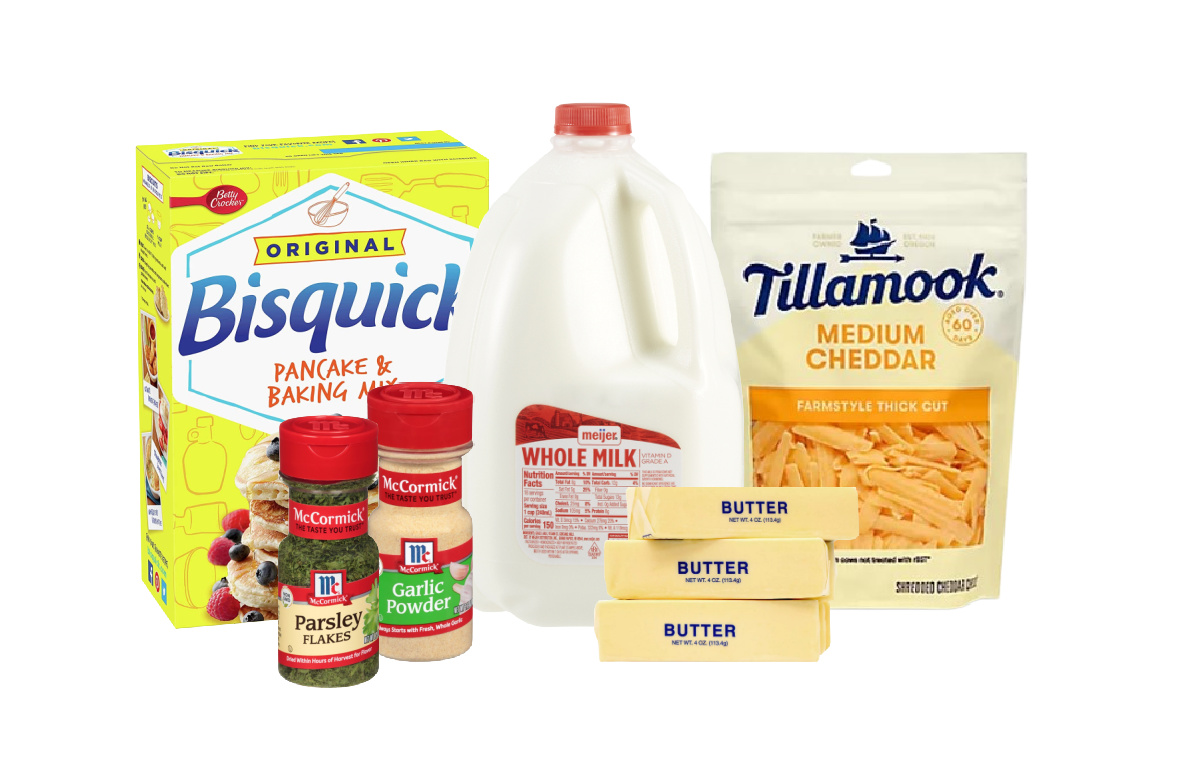 How to make Red Lobster cheddar biscuits


Making the biscuits…

Preheat the oven to 450.

Combine Bisquick with 4 tablespoons cold butter using a fork.

Add in milk and cheddar cheese and stir together.

Spoon onto a greased cookie sheet. This will make 8-10 biscuits.

Bake for approximately 15 minutes or until the tops are golden brown.


Making the topping…

Melt 2 tablespoons of butter.

Stir in garlic powder and your parsley (or Old Bay Seasoning)

Top your warm biscuits using a basting brush.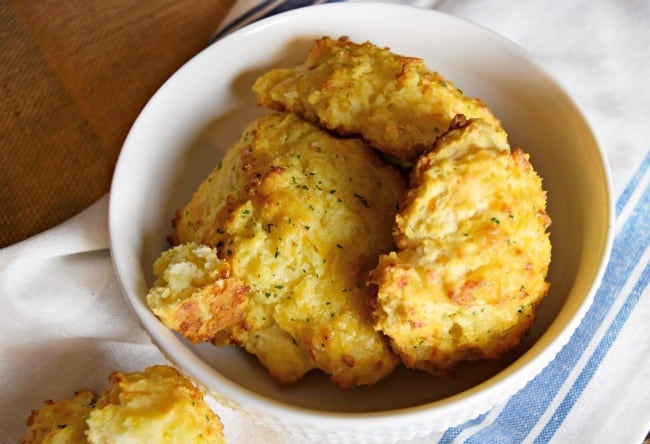 Copycat Red Lobster Cheddar Bay Biscuits FAQs


How to store leftover biscuits!


Place your biscuits in an airtight container and store them in the refrigerator. They will last for 3-4 days.


How to reheat leftover biscuits!


You can place individual biscuits in the microwave for 10-15 seconds until warm.


If you are warming up several I highly recommend warming them in the oven.

Preheat the oven to 350 degrees, wrap your biscuits in foil, and allow the biscuits to warm for 5-10 minutes.


Can you freeze Red Lobster cheddar bay biscuits?


Yes! You can either freeze them unbaked or baked. Although I suggest freezing them baked.


Allow them to completely cool and then place them in an airtight container. They will keep for approximately 3 months.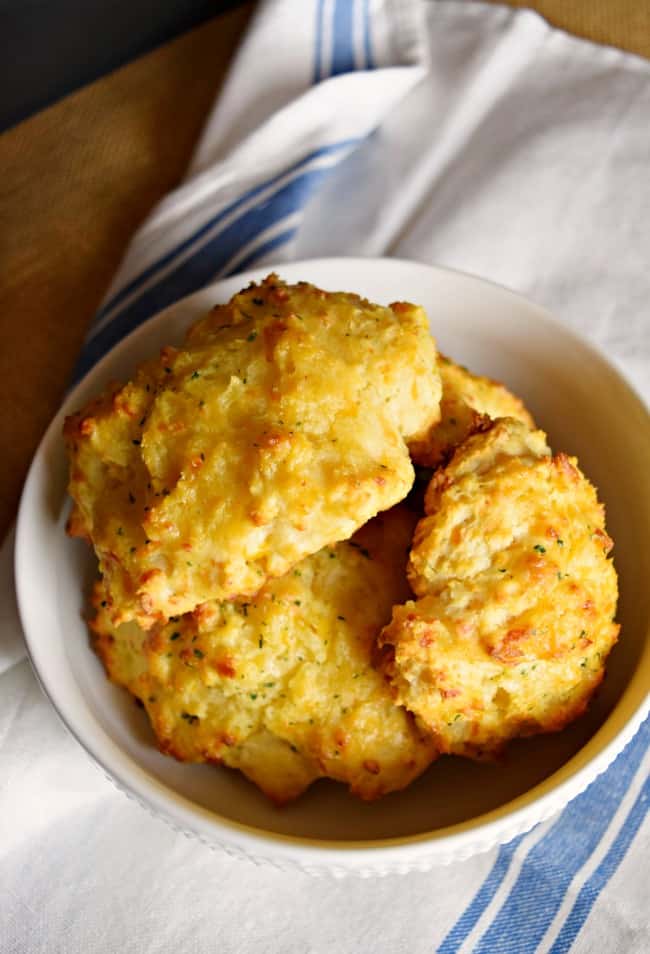 More Copycat Recipes:


Want to print or save these recipe details?