Download and print these free St. Patrick's Day Printable Sight Words sheets featuring some of the top sight words needed for preschool and Kindergarten.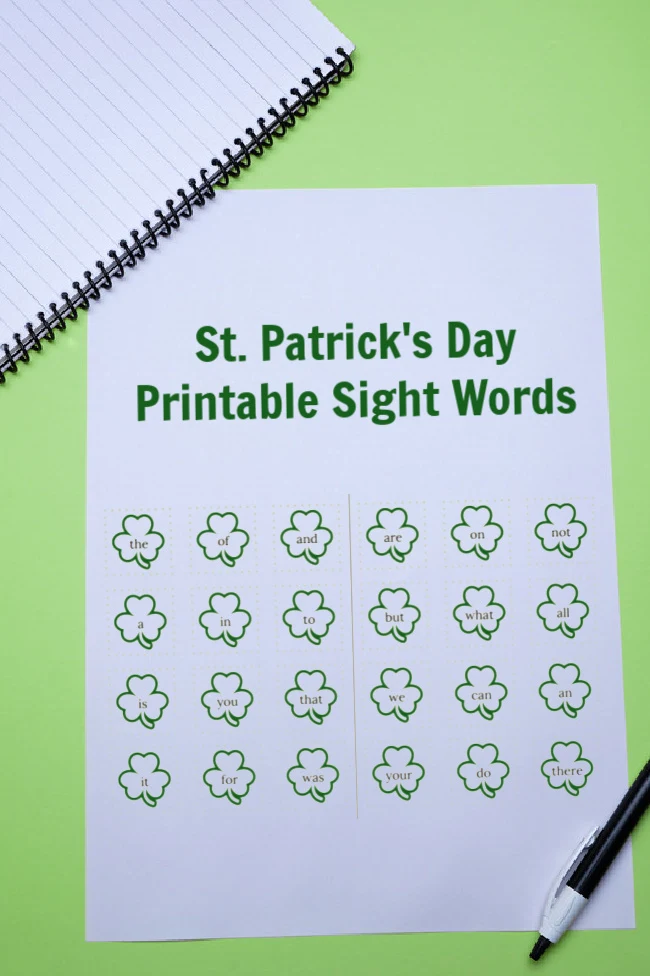 These fun and free printables will help your kids work on sight word recognition and celebrate St. Patrick's Day as well.

I have included a printable with 24 of the most used sight words but as well as a blank printable that will allow you to add additional sight words as you see fit. If you want to use the exact font and sizing I used for the others you will want to use Lora Regular at 125 font.


Fun Facts about St. Patrick's Day


Saint Patrick was not Irish! He was actually from Wales. He is remembered for bringing Christianity to Ireland.
For many years, blue was the color most often associated with St. Patrick. Green was considered unlucky. St. Patrick's blue was considered symbolic of Ireland for many centuries and the Irish Presidential Standard is still blue.
The shamrock is a symbol of Ireland and Saint Patrick's Day. It is a type of clover and usually has 3 leaves (unless you're lucky). The three leaves are meant to stand for faith, hope and love.
On St Patrick's Day, people love to dress up as a leprechaun. Leprechauns are known as mythical fairy creatures. It is said that they have a pot of gold hidden away and if you capture a leprechaun, they then have to tell you where it is located.
It is believed that if you wear green then you will be invisible to these leprechauns. If you aren't wearing green, then a leprechaun will see you and pinch you! This is why it has now become a tradition to pinch anyone who isn't wearing the color green.


St. Patrick's Day Printable Sight Words


DOWNLOAD PRINTABLE SIGHT WORDS HERE


Items you might want to have on hand:



Sight words are common reappearing words that cannot be sounded out. This is why they are called "sight words" as they are expected to be learned by sight rather than phonetically.


In order to help our children master reading it's important to spend a little time going over and teaching recognition.


However, that doesn't mean we can't make the idea of learning sight words fun and interesting and that is what we have done with these St. Patrick's Day Printable Sight Words. Celebrate the holiday and learn at the same time.


A good game would be to see if you can make simple short sentences using these sight words that related to St. Patrick's Day.

A few examples: "I see a small Leprechaun." or "Do you want his treasure?"

Have fun and enjoy!!

More Preschool Ideas you don't want to miss!