Looking for creative and unique Easter Basket ideas? Look no further, we have you covered from the babies in the family all the way up to the teens. Over 200 ideas!!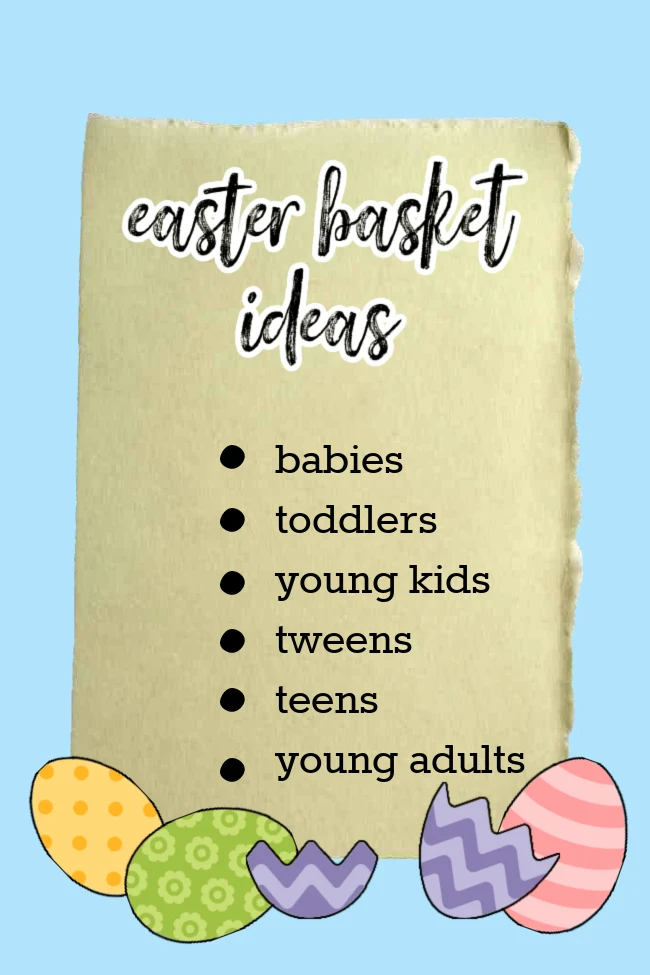 What do you put in an Easter Basket?

What you will decide to put in your child's Easter basket is solely dependent on each child. We think some of the best ideas are related to what they enjoy the most, whether that be a specific character, treat, or hobby.

Of course, there are classic Easter basket stuffers like decorated eggs, chocolate candy, and often stuffed animals but that doesn't mean you have to stick to these traditional items.

Keep reading to check out our entire list of the best Easter basket ideas to help get you started. Click through to the age that fits your needs the most or check them all out, some ideas can overlap.


What do you put in a baby's Easter Basket?

Some of the best items you can put inside a baby's Easter basket are practical items that you know you are going to need anyways.

However, we also love cozy stuffed bunnies and chicks, board books, and sweet little toys too.

Here is the list of our top favorite items for Easter Basket Ideas for Babies.


Easter Basket Ideas for Toddlers and Preschoolers

What do you put in a toddler's Easter basket? They are walking and talking so you have upped your game on the options you can add to a basket.

There are so many fun and creative ideas in the list we have provided for this age range.


What can I put in my "7" year old's Easter Basket?

We love the age range from 5-10 because there is a whole slew of different Easter basket fillers. They are so easy to shop for.

If you have a kiddo in the 9-10 years old be sure to also check out the tweens post because they are getting into the age too.


Easter Basket Ideas for Tweens and Teens

We have combined this one because let's be honest, tweens these days love just about all the same things teens love.


What do you get a boy for Easter?

Sometimes gifting ideas for older teen boys can be tricky. That is why we decided to make a post solely dedicated to them.

If you are having a hard time coming up with ideas then hopefully this post will help spark some creativity.


What can I use instead of a basket?

Looking for a fun and creative Easter basket?

There are so many ridiculously cute ideas to replace your Easter basket with something more unique and exciting. Here are just a few of our favorites.


Rain Boots
Dump Truck
Wagon
Kiddie Pool
Tool Box
Luggage
Backpack


Got an idea I haven't thought about? Let me know and I'll add it to the list!