Let's make a fun and simple paper plate Easter bunny just in time for the holiday season. This easy kids' craft is created with simple items like a paper plate, yarn, and wiggly eyes.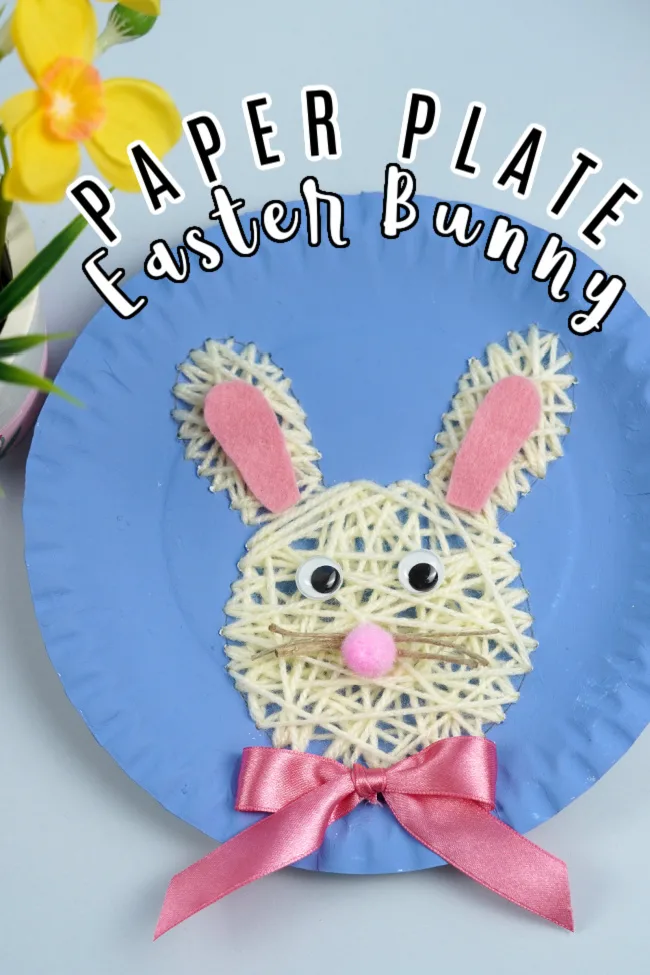 This craft uses a needle to poke holes around the bunny shape. If you find this is too advanced for your younger crafters then be sure to pop over and check out our pom-pom paper plate bunny. It is equally as cute.


Materials you will need:

paper plate
blue acrylic paint (or whatever color you want to paint your plate)
paint brush
needle (to poke the holes)
white yarn
pencil
scissors
glue stick
pink felt material
wiggly eyes
silk ribbon
pink pompom


How to make a paper plate Easter bunny!




Step by Step Instructions:

The first step is to paint the paper plate, we chose blue but you could use whatever color you like best.




Print and cut out the bunny head template.




Once the template has been cut out you are going to place it on the plate and draw around it. This part might be a little tricky for younger crafters so moms or dads this would be a good step to help with.




Now that the bunny head is in place on the paper plate you will want to use a needle to poke holes every 1/4 inch along with the drawing. This is another good spot for parents to do as sharp needles can poke little fingers.




Tie a knot at the end of your yarn, big enough that it doesn't go through the other side. You can also put a piece of tape over the not to make sure it doesn't pull through. Sew the bunny head with the white yarn (or whatever color you like) going back and forth across different holes. This is where I suggest using a plastic needle for little crafters, with no sharp points.




When you get to the end of the yarn and the bunny is completely covered tie off the yarn in the back of the paper plate.




The next step is gluing on the bunny's face. Using the glue stick, glue on the wiggly eyes.




Cut 3 pieces of twine, approximately 3 inches, to make the bunny whiskers, and then glue a single pink pompom on for the nose.




Draw 2 bunny inner ears on pink felt, cut out, and glue on ears.




The last step is to tie a bow with pink ribbon (or the color of your choosing) and glue it to the neck.




More Easter Craft Ideas

Want to print or save this paper plate Easter bunny craft?