This copycat Starbucks Pumpkin Scones Recipe is incredibly soft and perfectly spiced to make the easiest and most delicious fall bite.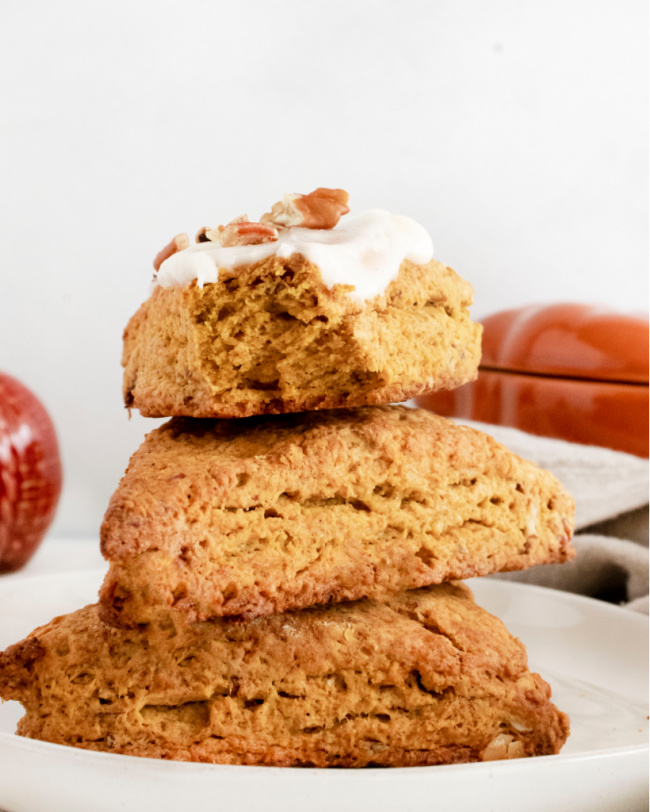 Not going to lie, this may be a "copycat recipe" but these pumpkin scones are so much tastier.


Topped with the cream cheese icing, you won't be able to resist.


How to make Spiced Pumpkin Scones!


Ingredients you will need:


For the Scones
10 tbsp butter
2 cups all-purpose flour
1/2 cup light brown sugar
2 1/2 tsp baking powder
1/2 tsp salt
2 tsp pumpkin spice
1 egg
1/3 cup heavy cream
1/2 cup canned pumpkin
1 1/2 tsp vanilla extract
1/2 cup chopped pecans, optional
For the Cream Cheese Icing
2 oz whipped cream cheese, at room temperature
3/4 cup powdered sugar
1/2 tsp vanilla extract




Instructions:


Brown the Butter: Chop the butter into cubes and place it in a small saucepan over medium-high heat. Once the butter has melted, begin to whisk it gently. Allow the butter to cook until it is golden brown— about 4 minutes.


The butter will foam on top but you'll know the butter is ready when the foam on top starts to turn golden brown. Remove it from the heat and whisk it gently again. Transfer to a heat-safe, airtight container, and freeze until solid— about 2 hours.


Note: Make sure to scrape all of the browned solids out of the bottom of the pan! You don't want to lose any of that flavor.


Add the flour, brown sugar, baking powder, salt, and pumpkin pie spice to the bowl and mix using a pastry cutter.


Chop the frozen brown butter into large cubes and add it to the bowl. Mix again until the butter is the size of peas.


Note: This can also be done in a food processor.


In a small bowl, whisk together the egg, cream, vanilla, and pumpkin puree until combined.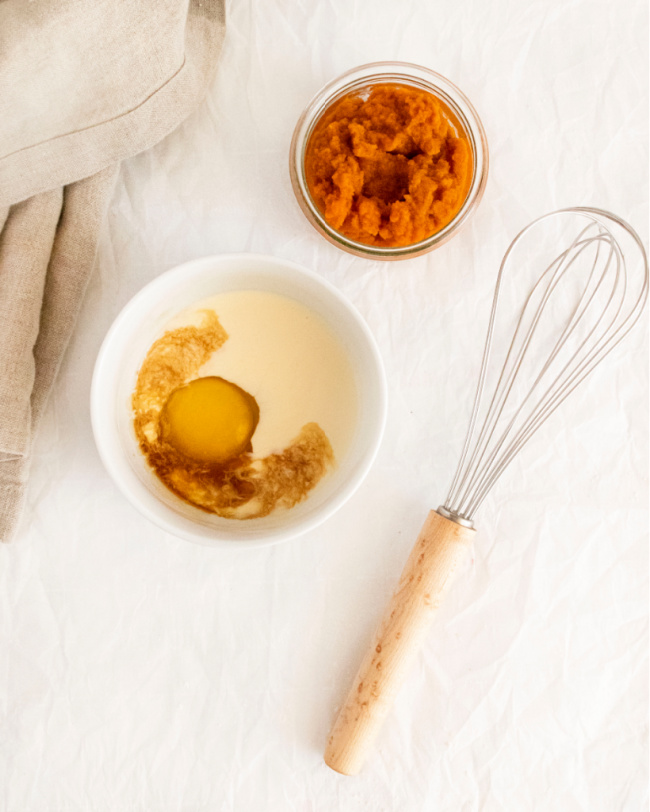 Transfer the butter/flour mixture to a large bowl. Add the wet ingredients and chopped pecans (optional). Stir until no large clumps of flour remain.


Note: This is easiest with a dough hook but it can also be done with a wooden spoon or your hands.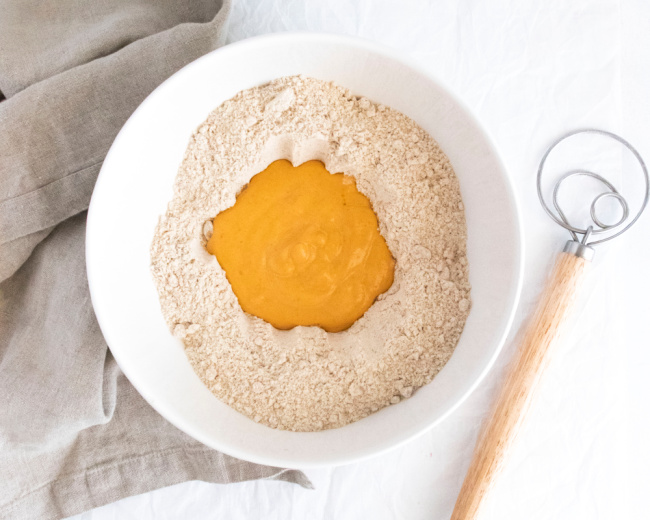 Once the dough is fully combined (it will look dry, that's okay!), transfer it onto a floured surface and pat it into a circle using your hands— the dough should be 1 inch thick and the circle should be 8 inches in diameter.




Cut the dough into 8 triangles and transfer to a parchment-lined baking sheet.


Note: To ensure evenly sized triangles, begin by cutting the dough in half. Then cut each half in half again (now you have 4 quarters). Then cut each quarter in half diagonally from the center of the circle.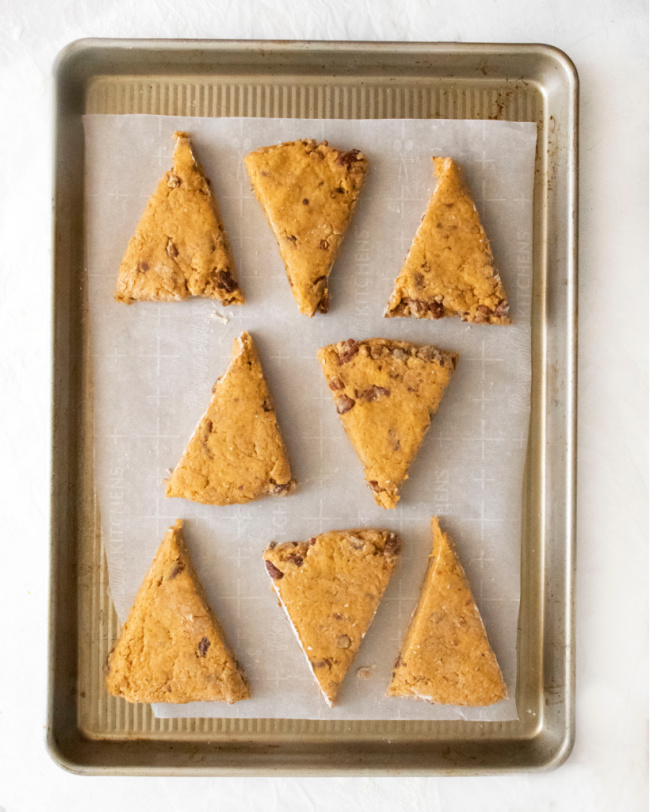 Bake in a preheated 425F oven for 16-20 minutes, or until the scones are lightly browned and puffed.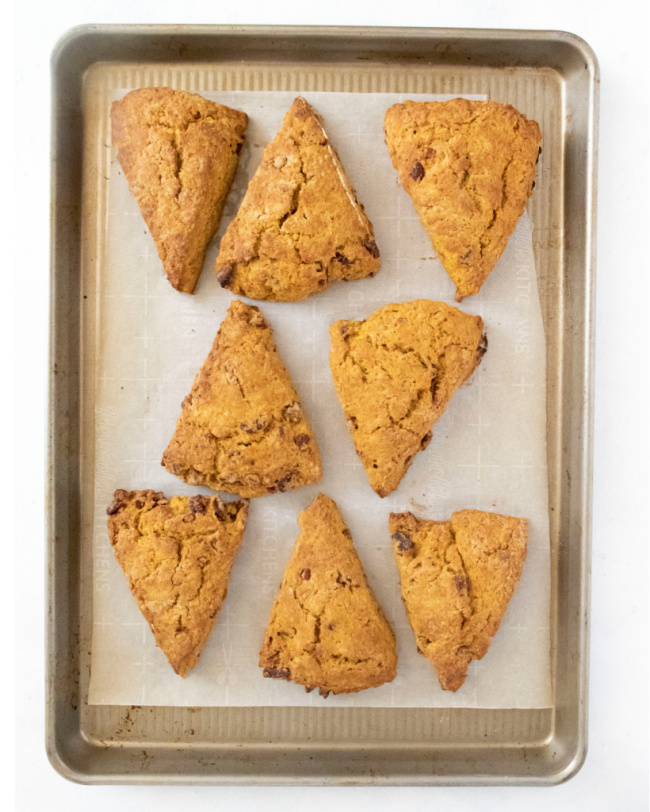 To make the icing, combine all of the ingredients in a small bowl and whisk until no large lumps of powdered sugar remain. Allow the scones to fully cool before icing or the icing will melt off the scones.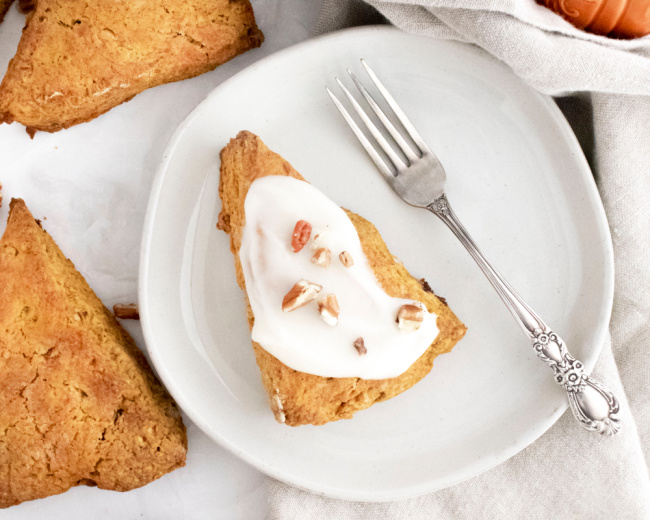 Store the scones in an airtight container in the refrigerator for up to 48 hours. The scones are best when reheated in the microwave for 30 seconds.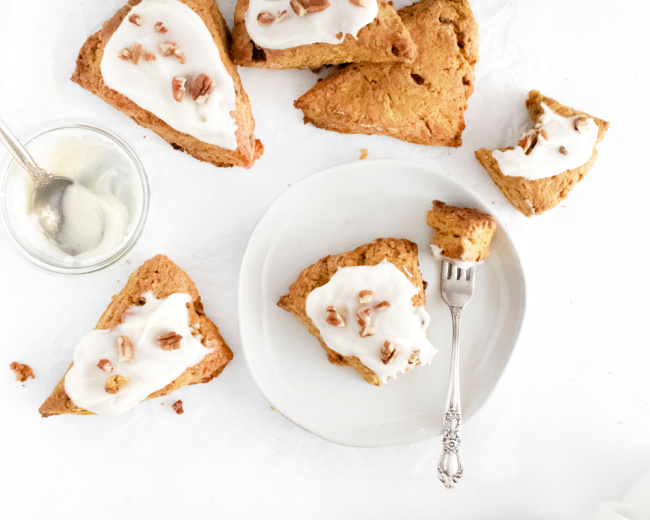 Tips for Mixing and Baking Scones:


A pastry cutter works best for mixing the ingredients.
Keep the scones as cold as possible until they are ready to go into the oven. You can even let the cut scones sit in the fridge for a bit before baking.
Make sure your oven is fully preheated before baking the scones.
Baking times vary with different ovens and what might cook 16 minutes in mine, might cook 20 in yours and vice versa.


How do I get my scones to rise and be fluffy?


Make sure you're using fresh baking powder, one that has been opened less than 6 months ago. Also, don't over knead the dough, the scones won't rise as tall.


What is the secret to making good scones?


Everything needs to be COLD! You want to have cold butter, cold egg, and cold cream. The cold ingredients prevent the butter from melting before the scones are baked, leaving it instead to melt in the oven and create the perfect end result.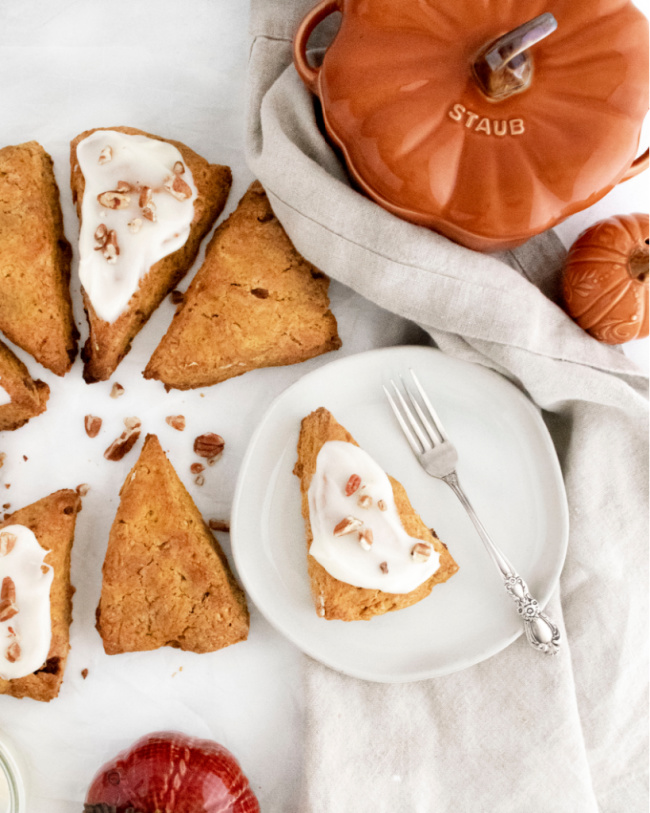 Even more amazing pumpkin recipes you don't want to miss:


Want to print this Spiced Pumpkin Scones Recipe?