A Christmas party must, this Gift Exchange Dice Game is sure to get your guests having loads of fun this holiday season.




This dice game includes a free printable that is easy to prep for a large Christmas party or a simple low-key night at home with just your immediate family.


How to play this Christmas gift exchange dice game!


What you will need:


Dice
Printable Instructions
Cardstock




Gift Exchange Dice Game Prep:


Print out the instructions on cardstock and place them in a visible location at the party.
Ask your guests to sit in a circle and place all the gifts in the center.
Let everyone pick a gift from the center of the circle and hold it in their lap.




How to Start and Play the Game:


Let each player take a turn rolling the dice and following the instructions for that number.
When a person unwraps their gift, they are out of the game and may not swap with anyone else.




How to Game Ends:


Continue playing until everyone has unwrapped their present.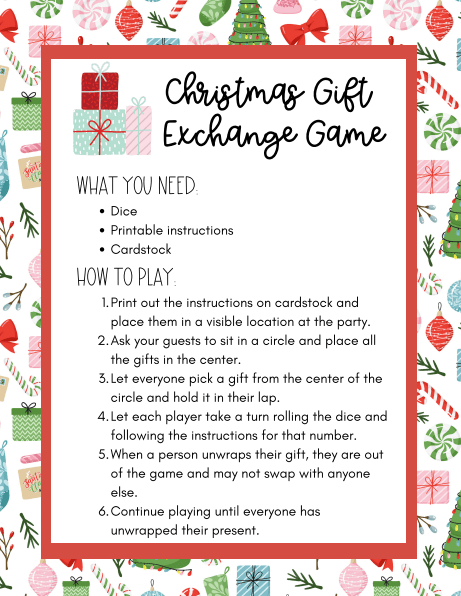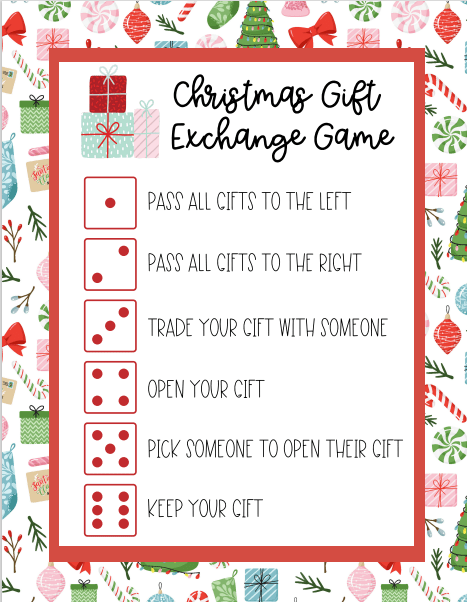 CLICK HERE TO PRINT THE TUTORIALS ABOVE




Frequently Asked Questions:


How many cards do I need to print?

You technically only need one printed out and it can be passed around as the game is played. But, if you would like to print one out for all your guests or a few to pass around if you have a large crowd then you can do that too.


What do I do if I am holding my own gift and told to unwrap?


Randomly choose someone else to unwrap a gift, as long as they aren't also holding their own gift.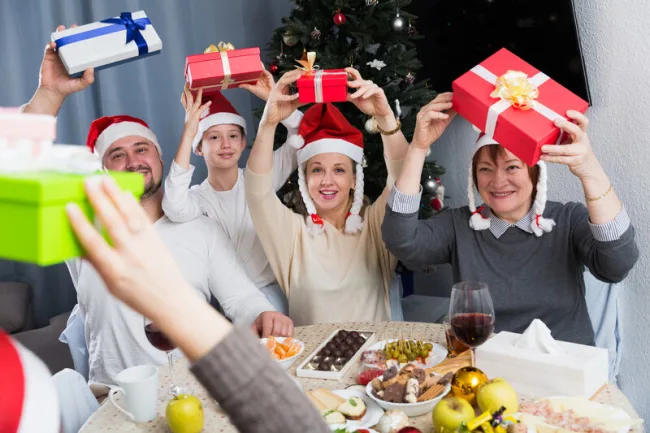 Alternative Way to Play:


If you are planning to have a large crowd of both female and male guests you can choose to have the girls bring a gift for a girl and the boys bring a gift for the boys. This would work well if you are playing this game with a teenage crowd. They might be a little pickier about getting a gift they won't use.


The rules would still be played the same except when a girl rolls only the girls exchange gifts and vice versa.


If they have to pick someone to open their gift or switch with someone it has to be the same sex.


If you enjoyed this Christmas Gift Exchange Dice Game be sure to check out these other fun Christmas activities as well.